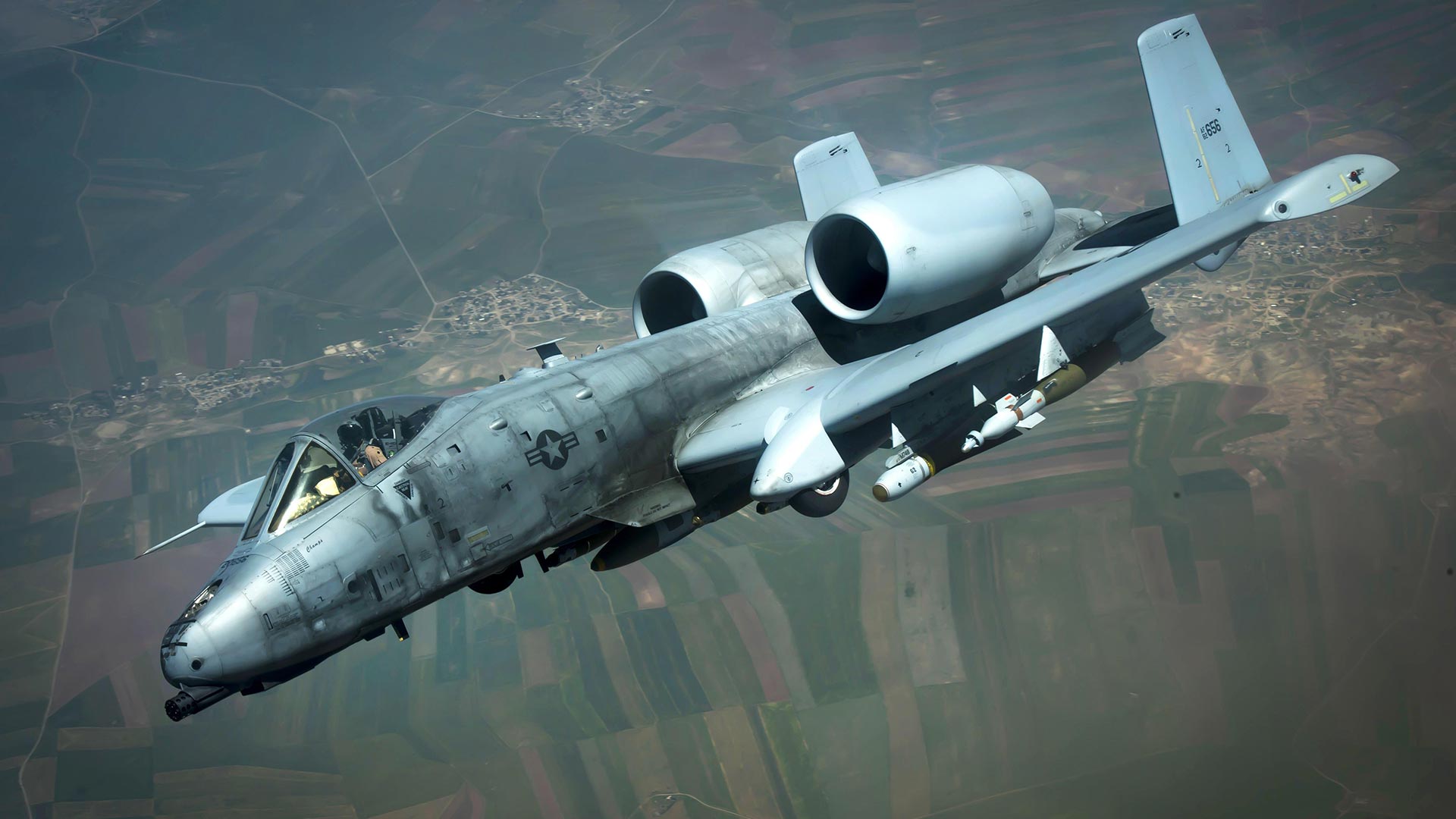 An A-10 Thunderbolt II flying for a mission in support of Operation Inherent Resolve, May 2017.
Michael Battles, U.S. Department of Defense
Tucsonans can reliably count on a few things: vivid sunsets, superior Mexican food and the sound of aircraft flying overhead. Most residents of central Tucson are familiar with the sound of the A-10 attack plane from nearby Davis-Monthan Air Force Base.
Gary Hunter has lived near Glenn Street and Elm Street for two decades.
"Fifteen years ago, they [A-10s] were fairly loud and bothersome, but since then the Air Force has raised the altitudes that they fly over through the midtown neighborhoods, so they're not too bad," Hunter told The Buzz. "But we also have F-16s going over. Those are twice as bad as the A-10s and they are bothersome."
He said he is worried about the possible introduction of F-35s to the base, which are louder than both the A-10s and the F-16s. Davis-Monthan is one of four bases currently in the running to get an F-35 squadron.
"They're going to be absolutely intolerable," he said.
At a recent public hearing, the Air Force met to explain the environmental impacts of basing the F-35s at Davis-Monthan.
Hamid Kamalpour is a civil engineer with the Air Force and is the program manager for the F-35's environmental impact statement.
"If this was not a significant impact, we would have just done environmental assessment and we would have concluded with finding of no significant impact, but in this case, we have significant impact with the noise," Kamalpour said.
At the public meeting, several people expressed that they thought the planes were too loud. Longtime central Tucson resident Manon Getsi said that when F-35s fly overhead, her home shakes. Public comments on the Environmental Impact Statement can be submitted until March 31.

---
Noise pollution concerns in Arizona aren't limited to the skies overhead. Karthic Thallikar has been in a years-long battle to get relief from the sound of from the CyrusOne Data Center located a half-mile from his home in Chandler.
After many complaints to city officials, police and the company itself, he did manage to spur some changes to deal with the noise, which comes from chillers used to keep the server farm at the right temperature. Before that, Thallikar said the noise was ever-present.
"The noise from the CyrusOne Data Center was a very annoying, disturbing noise," Thallikar told The Buzz. "It was constant, 24/7, 365 days a year. It was a very high-pitched 'eeeee' noise, constantly." Thallikar said that the noise increased feelings of anxiety and helplessness, which lead to other effects on his health, like trouble sleeping and increased blood pressure.
After months of noise, a group of Chandler residents attempted to work with CyrusOne, but these attempts were brushed aside, according to Thallikar. They were finally able to work with the city and get through to the data company. The company has since installed material around the chillers, which has helped reduce the noise.
"On many days we don't hear the noise, but when we hear the noise, we hear it really badly," Thallikar said. "So, I would say it has worked about 60% of the time, but the other 40% it does not."
Noise pollution expert Richard Neitzel is a public health scientist at the University of Michigan. Neitzel said at its simplest, noise pollution is unwanted or harmful sound in the environment around us. It doesn't have to be loud or even especially bothersome to be harmful.
"Low-level sound that's well within our tolerance or ability to cope with can still be causing harm to our cardiovascular system even if it's not hurting our ears," Neitzel told The Buzz.
According to Neitzel, chronic noise pollution has been linked to hearing loss, high blood pressure, heart attacks and strokes. It can also have a negative impact on people's mental health and cognition.
"Each year we advance, we are learning more about new emerging health impacts in addition to those," he said.
Even sources of noise that may not be loud enough to cause hearing loss, like highways and airports, can lead to negative cardiovascular effects. The jury is still out on whether or not most these effects can be reversed, Neitzel said.

The Buzz
airs Fridays at 8:30 a.m. and 6 p.m. and Saturdays at 3:30 p.m. on NPR 89.1. You can subscribe to our podcast on
iTunes
and NPR One. See more from
The Buzz
.