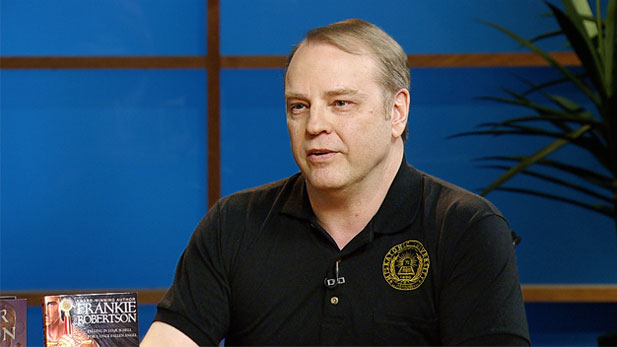 PHOTO: AZPM
Brian Gross a co-organizer for TusCon 38.
In the days before the internet made mass communication between fans easy, regional gatherings called conventions provided them with a sense of community, and an opportunity to share news and opinions about books and movies that dealt with the realms of the imagination.
Begun in 1974 by a small group of dedicated fans in Tucson, TusCon has grown steadily over the years since and now attracts some of the most famous names in science fiction, fantasy, and horror as guests.
Placing its emphasis on the literary side of science fiction, the convention provides a friendly environment for both established and new writers to share knowledge about their craft with one another and with their fans.
The cutting edge of modern science will be explored with guests and panels about astronomy and space travel. Those subjects are also represented in the art show alongside more traditional fantasy and sci-fi portraits of dragons, robots, and alien vistas.
This year's TusCon guest of honor is New York Times best-selling urban fantasy author Patricia Briggs, while representing real-world science is fan-chosen guest pf honor Dr. David A. Williams from the School of Earth and Space Exploration at Arizona State University.
They will be joined on panels and at convention events by over three dozen writers from a wide array of genres, including Emma Bull, Yvonne Navarro, Weston Ochse, Dennis McKiernan, and John Vornholt.
TusCon 38 will be held Friday, November 11th through Sunday, November 13th, 2011 at the Hotel Tucson CityCenter in Tucson, Arizona.