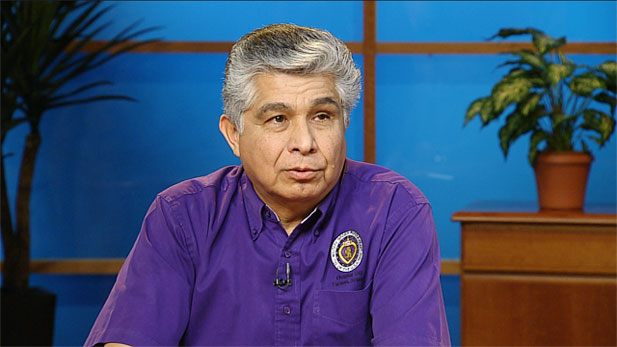 PHOTO: AZPM
Micheal Chihak Talks with a few Veterans. One of the Veterans David Alegria winner of the Military Order of the Purple Heart, he is the Tucson Chapter Commander.
The numbers of veterans in Arizona in need of help with benefits and health care issues is increasing, veterans service officials say.
With the veteran population aging and the wars in Iraq and Afghanistan sending more soldiers, sailors, airmen and marines home, federal, state and non-profit agencies are being swamped with requests for help, they say.
"For the veterans throughout the state of Arizona, they are kind of becoming a younger crowd," because of the Iraqi and Afghan wars," veteran Cathi Starr told * Arizona Week*. "But we also have had almost a resurgence in seeing more of our Vietnam veterans, just because they are aging."
Starr is regional manager of the Arizona Department of Veterans Services, a state government agency with the mission of assisting veterans in getting their benefits.
She said the newest wave of veterans includes those with traumatic brain injuries and an upsurge in cases of post traumatic stress disorder, or PTSD.
Leaders of veterans organizations in the state agreed that those are leading problems, along with the increasing infirmities that aging Vietnam veterans are experiencing.
David Alegria, a Vietnam veteran and Tucson Chapter commander of the Military Order of the Purple Heart, told Arizona Week that the nation needs to devote more resources to its veterans.
"As much money as is devoted to wars and fighting battles, typically we forget that part of that cost should be taking care of the veteran that's injured during the battles," Alegria said.
Alegria, a Tucson native, said he is experiencing increasing difficulties with his hearing and other functions, as a result of injuries he suffered in an ambush in Vietnam more than 40 years ago. For his wounds, he was awarded the Purple Heart.
Reporter Michael Chihak further explores issues with veterans for the Veterans Day episode of Arizona Week. Watch at 8:30 p.m. MST on PBS-HD-6 or here.