In the days before the internet made mass communication between fans an easy thing, regional gatherings called conventions were the lifeblood of the science fiction and fantasy community. Outside of local clubs or mimeographed fanzines, conventions were the only real opportunity to share news and opinions about books, art, and film that dealt with the realms of the imagination.
The TusCon Science Fiction Convention was started in 1974 by a small group of dedicated fans in Tucson, and the convention has grown steadily over the years. It now attracts some of the most famous names in science fiction, fantasy, and horror as guests, providing a place for both established and new writers to share knowledge and meet with their fans.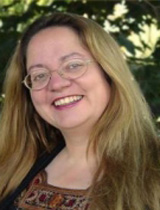 Fantasy author Patricia Briggs (PHOTO: Mike Briggs)
The 38th annual TusCon Science Fiction Convention is happening the weekend of November 11th, 2011, and the guest of honor is best-selling fantasy author Patricia Briggs, a writer with dedicated fans around the world, and a list of literary accomplishments that's surprisingly long for a career that's barely two decades old.
Patricia Briggs' latest Mercy Thompson novel, "River Marked"
In 2008, her novel Iron Kissed, a part of her ongoing series about a Native American shape shifter named Mercy Thompson, topped the New York Times best seller list. The latest Mercy Thompson novel, River Marked, will be available in paperback early next year.
I started our interview by asking Patricia how she felt to be named guest of honor for TusCon 38...
Listen:
Patricia Briggs will be appearing at the 38th annual TusCon Science Fiction Convention which is happening November 11th through the 13th, 2011 at the Hotel Tucson CityCenter, which is located in Tucson at 475 North Granada Avenue, near I-10 and Saint Mary's.