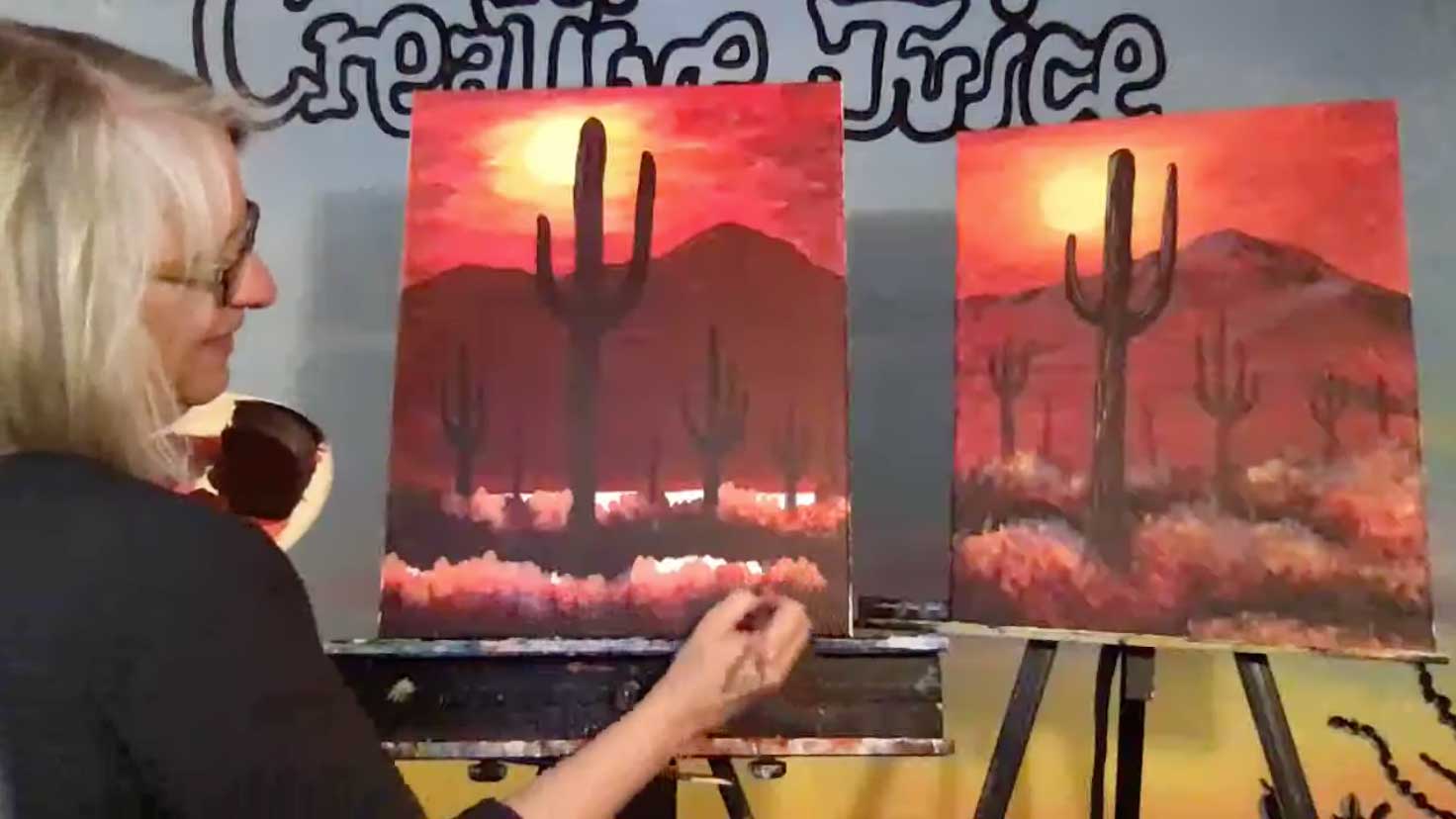 VIEW LARGER Businesses like Creative Juice painting studio are adapting to distancing measures put in place to slow the spread of COVID-19.

AZPM screen shot
The COVID-19 pandemic has forced many small companies to change their business model as cities embrace social distancing measures. Vanessa Barchfield spoke with Chellie Krajnak, owner of the Tucson-based painting studio Creative Juice, about how she's responding to the new normal. A transcript of their conversation follows.
UPDATE: On Friday, Tucson Mayor Regina Romero ordered all nonessential businesses to close, including Creative Juice. Krajnak will continue to offer free classes for adults and children on her Facebook page.
---
KRAJNAK: We opened in 2012. I taught second and third grade beforehand, and just wanted to try something different. It's great to teach adults as well. And they get to kind of get out of their head for a little bit and do something creative.
BARCHFIELD: When did you start thinking that coronavirus might make some impact on how you were running your business, how you're doing things?
KRAJNAK: Well a couple weeks ago it really hit for us. We decreased our class sizes. But really it was just when the mayor said, OK, you have to really limit your group size and restaurants and bars closed, so I figure that maybe this would be a fun option. We're going to offer some online free classes and if you have the supplies you can paint along with us. And it'll help de-stress a little bit, and everyone can get out of their head again and do something creative.
BARCHFIELD: I lost you a little bit when you said that you're offering online classes. Did you say online free classes?
KRAJNAK: Yes, the classes are free. So you can just log in and paint. Watch us on Facebook.
BARCHFIELD: So how will you be sustaining yourself financially?
KRAJNAK: Well, I don't know yet. I am hoping that I can teach the classes. I'm hoping that my employees, I have enough money socked away to let them teach a few classes as well so they can stay working for a little bit. Hopefully it won't last very long. But if it does, we'll figure out something else. But this way at least people can be creative and destress a little bit.
BARCHFIELD: How did this idea come about?
KRAJNAK: I was lonely. No, I stayed home for a couple days and I was cleaning and doing the things you do when you stay home and you have extra time. But I thought, 'You know, I'm kind of bored a little bit, so other people probably are as well.' And if we can interact and be creative online maybe it'll help a little bit with the situation.
BARCHFIELD: How's the feedback been so far?
KRAJNAK: The feedback has been great, I've cried many times today.
BARCHFIELD: What are people saying that's making so emotional or moving you so much?
KRAJNAK: They're very grateful there's something out there they can do, it's not going to hit their pocketbook very deeply. Since there's probably not a lot of discretionary funds around right now. I mean people are buying food and worried about sustaining themselves, but this is just something that doesn't cost a lot.
BARCHFIELD: Can you tell me about what that community that you've built looks like?
KRAJNAK: I do have a lot of return customers, and they are always very supportive and they have been in this situation as well. I'm big about just being a part of the community. I love giving back as much as I can. I love being a part of Tucson and I feel like this gives other people a place to come and do that as well.
BARCHFIELD: Do you have any worries about the future?
KRAJNAK: Oh, of course. I do. Absolutely. I don't know, hopefully we will reopen. I'm just going to keep going, and painting. And I definitely think there's a lot to worry about, but I'm just going to take one day at a time.