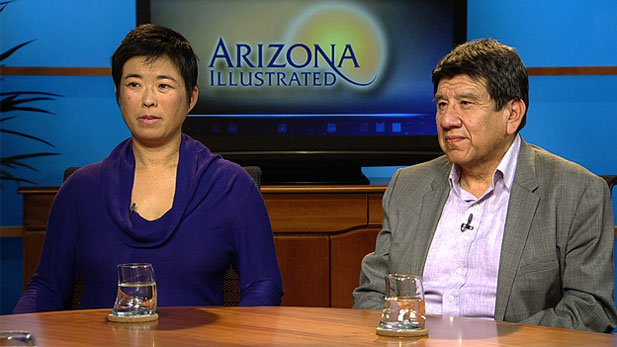 PHOTO: AZPM
Tucson artist Denise Uyehara (left) and Roberto Bedoya (right), executive director of Tucson Pima Arts Council, discuss the public dialogue over arts and politics.
The Tucson Pima Arts Council and Alliance for Audience/ShowUp.com are inviting southern Arizona residents to engage in a conversation about the role of artists in the broader community.
"Arts, Culture & Democracy: A Tucson Community Discussion" is giving participants a chance to hear from leaders from both the political and artistic realms, including Ron Barber, district director of the office of U.S. Rep. Gabrielle Giffords, local artist Denise Uyehara, and Doug McLennan, the Seattle-based founder and editor of ArtsJournal.
Uyehara and Roberto Bedoya, executive director of Tucson Pima Arts Council, join Arizona Illustrated to discuss the project. They say its goal is to advance public dialogue about important issues, not to politicize the arts.
Seating is limited for the free event, so reservations are encouraged. It takes place at the Temple of Music & Art in Tucson, beginning at 8:30 a.m. on Thursday, November 17th.