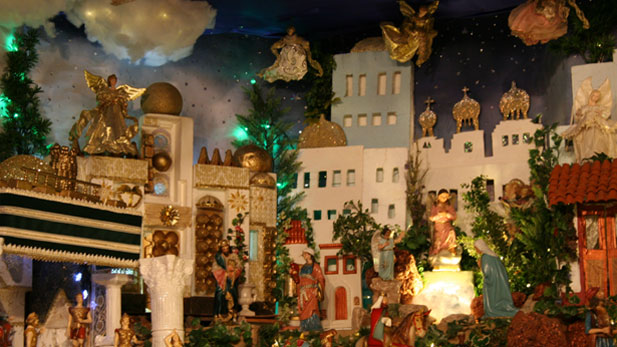 PHOTO: AZPM
Retail Manager, John McNulty and Curator of Latin American Art, Ann Seiferle-Valencia, both from the Tucson Museum of Art tell us about the importance of the holiday sale and the annual Nacimiento display.
If you're looking for a unique holiday gift and want to contribute to the local economy at the same time, you may want to check out the annual Holiday Artisans' Market at the Tucson Museum of Art where dozens of unique pieces will be available for shoppers.

It's being held from Friday, Nov. 18, through Sunday, Nov. 20, and will include artisans, food vendors and live music.
Those who visit on Sunday the 20th will also be able to see the noon opening of the annual El Nacimiento display.
Ann Seiferle-Valencia is the curator of Latin American Art at the museum and she says this Nacimiento display is an intricate exhibit that has a long tradition in Tucson. The tradition began decades ago when a local resident built the first one as a memorial to her mother who had passed away.
"The Nacimiento at the Tucson Museum of Art is really one of Tucson's hidden gems," Seiferle-Valencia says. "And it's been ongoing for 33 years."
The museum is encouraging visitors to drop by whether they just want to look at the variety of art, purchase some to take home, or both.