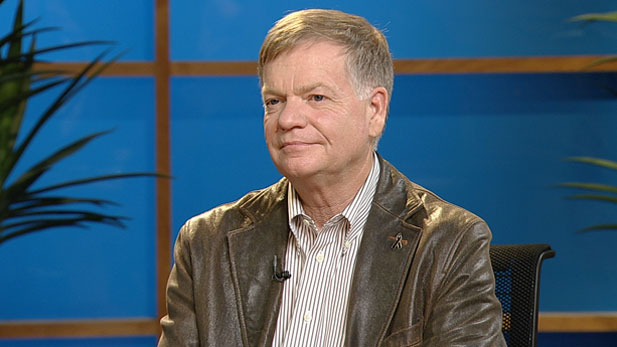 PHOTO: AZPM
Executive Director of the Community Food Bank of Southern Arizona, Bill Carnegie, talks to us about the lack of money for food that will be able to be distributed in holiday food boxes for the first time in 35 years.
The Community Food Bank of Southern Arizona has canceled its annual holiday food box distribution because it is short of food and money, CEO Bill Carnegie says.
Huge demand for services has depleted the food bank's reserves, forcing cancellation of the traditional yearly distribution of holiday food boxes that have contained hams, fruits, pies and bread. Last season, the group handed out about 20,000 holiday boxes at an estimated cost of $350,000.

But with a monthly demand from more than 200,000 people - more than a twice the number from just four years ago - the food bank doesn't have the money to continue the decades-old tradition.
"We're just seeing way too many people to be able to respond to any kind of holiday food this year," Carnegie says.

He says the type of people showing up for assistance reflect the community as a whole. Seniors, young parents with babies, former full-time employees, teenagers and others form long lines on typical days.

"If you were to take a black and white photograph of that it would look like something from the Great Depression," Carnegie says.
Carnegie says he is not optimistic about the situation getting noticeably better any time soon. However, he says the community can help by providing donations and volunteers. Every little bit of help is vital, he says.