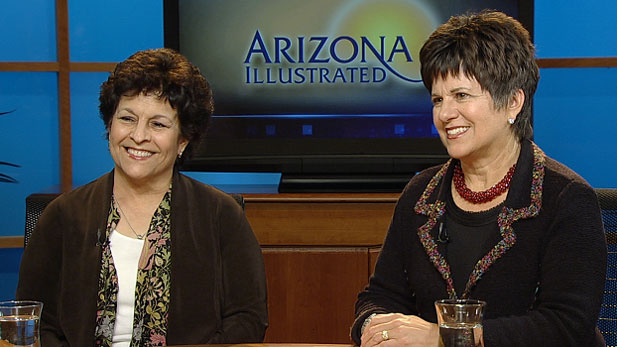 Mobile Meals', Priscilla Altuna (left), and Interfaith Community Services', Bonnie Kampa (right), tell us how they help people in need of food for this Thanksgiving holiday. (PHOTO: AZPM)
Fewer donations but greater needs this holiday season are driving Tucson food banks and other charitable organizations to seek more community help.
"When I left the office this morning, there were lots of people waiting to get a bag of the holiday items to fix their dinner on Thursday," Bonnie Kampa of Interfaith Community Services says. "We're seeing a tremendous need -- people who've never had to ask before."
Interfaith Community Services began handing out holiday food bags Monday. That's in addition to the regular emergency food boxes they hand out once a month.
Kampa says that in the past four years, need tripled for their services. ICS sees about 90 families a day.
Priscilla Altuna of Mobile Meals says every year there is a deficit, but this year the numbers have grown. That's due to state cuts in services for mental health and a growth in retired workers.

Mobile Meals delivers two meals a day, one hot and one cold, to low-income and the elderly. Fifty percent of recipients pay $3 or less for a meal. Some pay nothing.
Altuna says volunteers don't deliver meals on Thanksgiving, but they do try to get meals from other agencies in town.
"The overall response from people who hear about Mobile Meals is they realize how important our support service is," Altuna says. "We help their family members maintain their independence."
ICS food boxes are meant to get a family through a difficult few days, Kampa says.
"When you see that emergency box, which when you see it, you say that's not going to get a family through more than three or four extra days, but it makes a big difference," she says.
To donate to the ICS and Mobile Meals, visit their Websites: ICS; Mobile Meals.