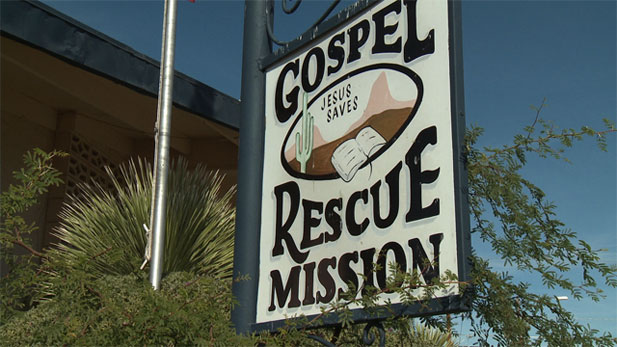 PHOTO: AZPM
Gospel Rescue Mission is preparing for a big Thanksgiving meal expected to feed a record number of families and individuals in need.
The holidays can be a stressful time for many. But for those who find themselves homeless, or without a job and unable to put food on the table, the holidays can be a time of desperation.

At the Gospel Rescue Mission in South Tucson workers say the number of people seeking help goes up this time of year. In response, the Gospel Rescue Mission closes off the street in front of the shelter each Thanksgiving and sets up tables for a street banquet.

"We're prepared to serve 3,200 this year, last year it was about 2,700, so we know that with the economy and everything else that's going on we're prepared for a little bit more," says Kelly Edwards, who directs the kitchen at the men's shelter.

Edwards says people often think about volunteering or donating to those in need during the holidays, but the less fortunate--and the shelter kitchen--need help year round.
"We're feeding about 12,000 meals a month," Edwards says. In addition, the kitchen has a sack-lunch program for those residents who have jobs, and for other people who come to the shelter seeking food.

"We don't turn anyone away hungry, ever," Edwards says.
Rick Smith has been a resident at the men's shelter for a little over a month, and he works in the kitchen. He says he fell into hard times when he lost his job and got divorced. He has a commercial pilot's license and operated heavy equipment with a construction company for 17 years, but he says he could not seem to pick himself up once he lost his job.
"I started drinking, I started doing drugs –I've been doing that for about the last four years," Smith says. "My life was going downhill fast. I was losing everything; I was losing my apartment, losing my car."

Smith says he texted his brother one night and with his help ended up at the shelter the next morning. Scott Munro, a pastor and director of development and expansion at the Gospel Rescue Mission, says Smith represents what he calls the "economically homeless."

"It used to be that the homeless population was pretty well defined as individuals that, for whatever reason, had lost all contact with people that could help them through the issues of life that happen to everybody, and they found themselves alone and desperate," Munro says.

"But because of the economy, and what we've seen in the last three or four years, people that used to be able to hang on and take care of themselves--they're losing jobs. They lose a job and they lose the ability to pay for the things they have; they lose their vehicles, they lose their home, and for the first time in their lives they have nothing."

Munro says these individuals are easy to spot when they walk into the shelter. "They're very frightened… this is a new thing for them," Munro says.
Walking through the doors at the Gospel Rescue Mission is often an individual's last grasp at hope. Smith says he's an example of how quickly a person's life can unravel in these economically challenging times. He was thrust into desperation and now he says the simple act of eating and preparing food for others serves as way of finding stability and security.

"I've always loved to work," says Smith. "One of my first jobs was working in a restaurant, and now after going though hard times, here I am in the kitchen again… I love it."