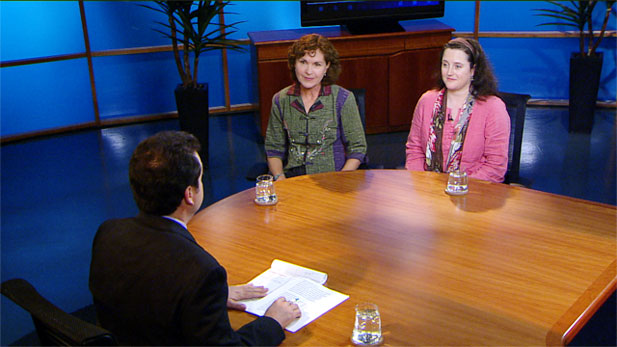 PHOTO: AZPM
Nancy Rogers (center), a nutrition and fitness counselor with the University of Arizona, and Kerri Stramler (right), a library information analyst, talk about eating right and exercising.

Experts say gaining weight doesn't have to be inevitable during the holidays, but it could take some extra concentration and commitment.
While every person is an individual, nutrition and fitness counselor Nancy Rogers say there are some basic steps we can all take to improve health and success rates. Rogers works for the University of Arizona's Worksite Wellness Program, which provides assistance to university employees who are trying to improve their physical and emotional shape.
Education and awareness about the quality and quantity of the food we ingest can be very helpful, Rogers says, and engaging in physical activity is critical, whether that means team sports or swimming on one's own.
"There's just lots of different methods that depend on whether you're more of an introverted, extroverted [person], if you like group activities, if you would rather do things on your own. So we try to do our nutrition and fitness counseling depending on who that person is," Rogers says.
Kerrie Stramler is a library information analyst who heard about the program about a year ago and decided to get involved. She's already been able to lose 16 pounds through exercise and better eating habits, and she hopes to shed an additional 20 to 24 pounds.
Stramler says she enjoys weight loss support groups, which have helped her stay on task.
"It's fun, it's challenging, some days are harder than others but some days are easier than others and usually, when you do it, you really do feel a sense of accomplishment, like, 'I did it, yeah,'" Stramler says.
And she says having a plan, staying motivated and maintaining consistency are key ingredients for success.