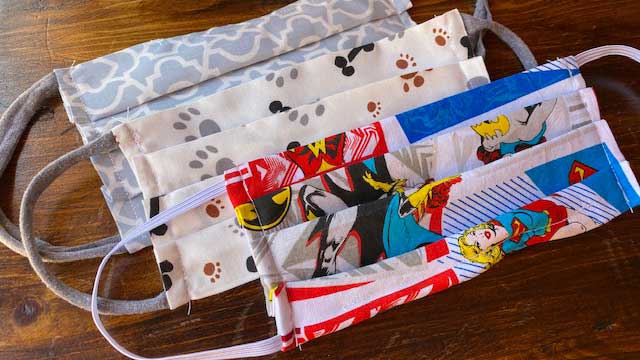 VIEW LARGER Handmade masks made by Robyn Pomonis during the COVID-19 pandemic in April 2020.

Courtesy of Robyn Pomonis
The fear that spurred Mary Calahan to ask her friends to start making cloth masks was that her colleagues at Banner University Medical Center would have to reuse personal protective equipment during the COVID-19 pandemic.
Calahan is a nurse working in case management at the hospital. She said unlike many of her coworkers, she was diligently following the early news surrounding COVID-19, because she has family members who were aboard the Diamond Princess, a cruise ship that reported infected passengers in February.
She said she noticed Chinese health care workers were going through a lot of personal protective equipment early on in the pandemic, she had an idea to protect herself and her community.
"I want to see if we can collect masks for the hospital, because I realized that PPE was becoming something that was really demanded around the world," Calahan said.
Calahan put up a sign-up sheet at the hospital for cloth masks in March. She estimated 281 colleagues, from nurses, doctors, respiratory therapists to environmental specialists, wanted one.
She asked members of her church, Catalina Foothills Church, to help fill the orders. One of them was Robyn Pomonis.
Pomonis said before she started making masks, she saw more and more health workers asking people in different craft groups on Facebook to make masks for them.
"It seems funny, right?" said Pomonis. "I'm in crafting groups, and I'm hearing about this, people making masks."
She said the church group has made around 200 masks for Banner Health, but Pomonis has made 95 masks for Banner, her family, her friends and other hospitals across the country, as of Tuesday.
However, Pomonis said it's getting harder to find mask-worthy fabric in the Tucson area, and she doesn't know what the future of mask making will look like while she waits for more fabric to be delivered.
Andy Kramer Petersen, president and CEO of the Banner Health Foundation, says its goal is to receive 100,000 handmade masks for its employees across Arizona who aren't working directly with COVID-19 patients.
She said they have close to 11,000 "social comfort masks," as of Wednesday.
"Comfort masks are for those who interact with patients and the public in other areas of the hospital, like our patient service representatives, administrative staff, pharmacy employees and others," Kramer Petersen said. "It gives them a physical barrier to help prevent the spread of the virus and it helps them feel safer at work."
She said these barriers are meant to provide emotional comfort more than to prevent the spread of the disease, and that's why Banner Health hasn't placed many requirements on the masks its accepting.
Banner Health currently only requires the cloth masks be made from washable fabric. Kramer Petersen said all the donated masks in Tucson will be washed before use and at the end of the day by Sparkle Cleaners.
She said Banner Health wants to have enough masks to one day give patients leaving the hospital one to take home.
"The Tucson community has been incredibly supportive," Kramer Petersen said. "There's no small act of kindness — all of them add up — and we are incredibly grateful for the Tucson community's support."