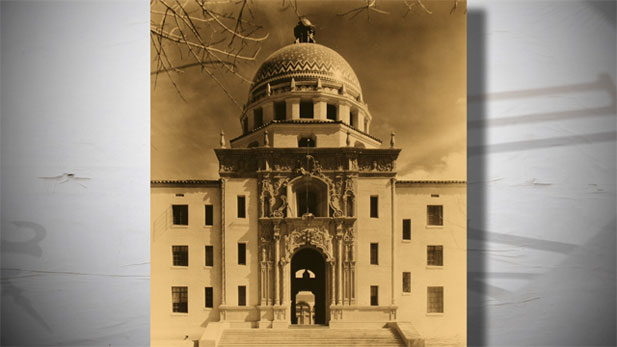 Demion Clinco takes us to the Pima County Courthouse for this weeks History Moment. (PHOTO: AZPM)
Anyone who has been in downtown Tucson has usually noticed the historic pink stucco building with the large dome on top that's decorated with shades of blue, yellow and green.
Demion Clinco is the president of the Tucson Historic Preservation Foundation and he says the structure is one of the most recognized buildings in Pima County. It was built decades ago and continues to attract attention from general members of the public and plenty of camera-wielding admirers.
"The new courthouse was part of the popular Spanish eclectic revival movement that was influencing many of Tucson's residential and commercial designs in the 1920s," Clinco says.
"The scale, ornamental details and plan combined to create a picture postcard image for Tucson."
Although originally built as Pima County's third courhouse, the building now houses the county recorder and county assessor offices as well as active courtrooms.
In 1978, it was listed in the National Register of Historic Places.
"Pima County's stewardship has maintained this architectural masterpiece," Clinco says. "One of Tucson's icons, to be as vivid today as when it was constructed."