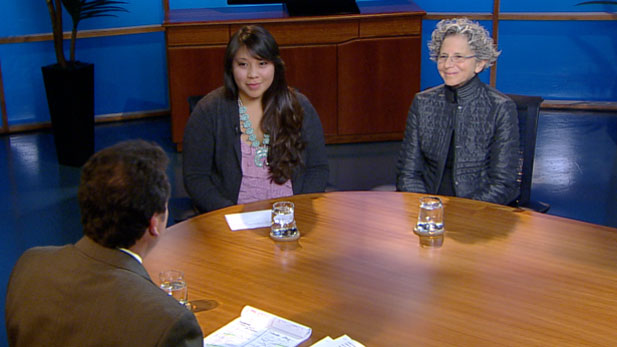 PHOTO: AZPM
UA Hanson Film Institute's, Charissa Delmar (left), and Apache 8 Director, Sande Zeig (right), tell us about the Native Eyes Film Showcase that will be showing in various locations in Tucson from November 30th to December 4th.
The stories of Native Americans and other aboriginal populations have often been told by non-natives, but growing numbers of indigenous people are getting a chance to share their history and experiences thanks to education and training.
The Native Eyes Film Showcase in Tucson will allow members of the community to see multiple films and documentaries that highlight the work of local and international filmmakers.
The event begins Wednesday and runs through Sunday, presented by the Arizona State Museum and the University of Arizona's Hanson Film Institute in collaboration with the Smithsonian Institution's National Museum of the American Indian.
UA student Charissa Delmar, a member of the Navajo Nation with a major in film and television and a minor in American Indian Studies, works at the Hanson Film Institute.
She speaks with Arizona Illustrated to share information about the showcase, which has run since 2005.
"You have a different array of films that are going to be offered, and it's something that is unique for Tucson to have," Delmar says. "Otherwise Tucson's audience wouldn't have an opportunity to see these films, so that's what the showcase is there for."
For more information, visit the State Museum Website.