The north end of the Highland Parking Garage at the University of Arizona may look like a plot of vacant land right now, but plans for the facility call for greenery, both edible and not.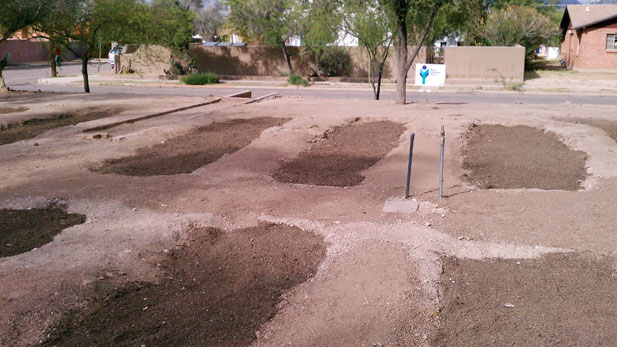 PHOTO: Robert Rappaport
The UA Community Garden is on the north side of Highland Parking Garage, at Mabel Street.
"It's about 16,000 square foot, in terms of the plot. Within that piece of land, you're looking at a number of 20-by-3-foot sunken beds filled with compost and soil, ready to be planted," says Chester "Chet" Phillips, a graduate assistant in the UA Department of Arid Lands and Resource Sciences. Phillips also advises the students helping with the community garden.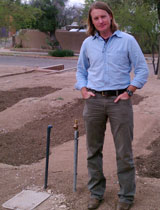 PHOTO: Robert Rappaport
Chester "Chet" Phillips, is a graduate assistant/adviser at UA Community Garden.
Aside from the planting and maintenance, the plots will be somewhat self-sufficient.

"We have an irrigation system and it'll all be drip-taped going to each bed," says Phillips. "An individual bed tender will not have to do all of the watering."
The startup cost of the garden was about $16,000 for excavation, irrigation and a shed on the property, says Phillips. That money came from a grant from the UA's "Green Fund," he says.
Plots should be available for rent in either January and February for members of the UA community and nearby neighborhoods. The exact amount of the rent has not been determined yet.