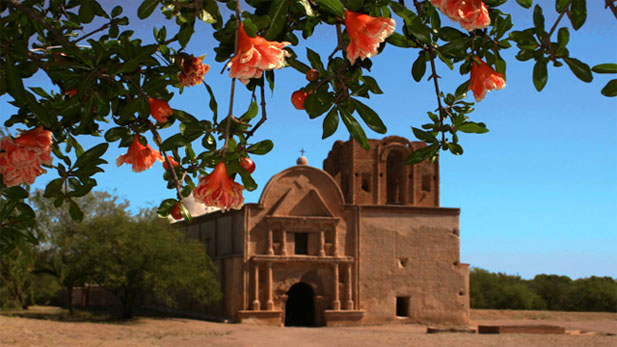 PHOTO: AZPM
Tumacacori Mission this weekend hosts the annual fiesta, with a variety of cultural events.
Two long-standing events that draw thousands in Southern Arizona will kick off holiday festivities this weekend.
The Tucson Botanical Gardens will celebrate the 25th anniversary of Luminaria Nights, and Tumacacori National Historical Park will host La Fiesta de Tumacacori, for the 44th time.
More than 2,000 luminarias will light up Tucson Botanical Gardens Friday through Sunday, with lights that are for more than show. They literally light the way and offer symbolic meaning.
"It's one of Tucson's oldest holiday events," says Joan Ardern of Tucson Botanical Gardens, in her third year organizing the event. "It's festive and so much fun."
Thirty musical performances will be held during Luminaria Nights, including large choruses, folk bands and even a Jewish band.
At Tumacacori, the fiesta honors the history in the area Saturday and Sunday.
"It's a way to celebrate the diverse cultures and traditions that are a part of the Santa Cruz Valley and history," says Lisa Carrico, U.S. Park Serbvice superintendent at Tumacacori.
The event draws more than 1,000 people from surrounding communities, including Carmen, Tumacacori and Tubac, Carrico says.
"I think there's a little something for everyone there," she says. "We have folks representing a variety of cultures everything from ranching and cowbells to groups from the Native American tribes to folks from Mexico, folkloric dancing, crafts and lots of food."
With the events just days away, Ardern says she is already planning for next year.
"We are looking at getting more support," she says. "Always something new."