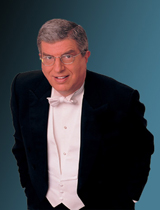 Marvin Hamlisch is one of the few American composers who has managed to become a household name.
During his accomplished career, he has won at least one of virtually every major artistic award that exists, including three Oscars, four Grammys, four Emmys, three Golden Globes, and a Tony. His groundbreaking Broadway musical "A Chorus Line" earned the Pulitzer Prize for drama in 1976, making Hamlisch's list of awards a tough one to beat.
UAPresents is bringing Marvin Hamlisch together with Broadway singer J. Mark McVey for a performance of Broadway tunes and more. It's happening on Friday, December 2nd at 8:00 pm at Centennial Hall. The concert will include the decdiation of a new song in Centennial Hall's honor.
"The Art of the Audition", a master class taught by Marvin Hamlisch, is occurring on Friday, December 2nd at 1 pm in the UA School of Music's Crowder Hall.
UAPresents is an underwriter of Arizona Public Media.
Listen: