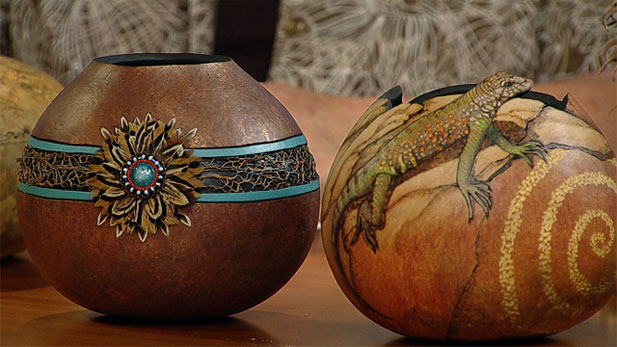 PHOTO: AZPM
The Valley Gourd Patch is holding its third annual Gourd Art Festival in Green Valley on Friday and Saturday December 2nd and 3rd.
Gourds are squash-like fruit that grow on vines but they're also growing in popularity for artists who are finding many interesting ways to incorporate them into finished products.
The large plants are typically found on farms and once the fruit is ready after harvesting, it is carved out much like a pumpkin and then allowed to dry.
Locally, the Old Pueblo Gourd Patch and the Valley Gourd Patch provide an outlet for residents who want to work on these materials in a supportive and entertaining atmosphere.

Phyllis Sickles is the president of the Old Pueblo group and she says there are many options when working with the gourds. Among other possibilities, they can be carved, painted and dyed.
"You name it, it can be done," Sickles says. "The most difficult thing is dealing with gourds with the roundness of them, sometimes that can throw off the design," Sickles says.
Diane West is the president of the organization in Green Valley and she likes to create southwestern and Native American-themed masks and other items that are often found in galleries, a noticeable change from years ago when owners were reluctant to include these products.
"They did not consider gourd art fine art but that has changed and I think there's a lot of gourds to be found in galleries now. Carved, masks, figures, spirit dolls," West says.
The Valley Gourd Patch is holding its annual Gourd Art Festival on Friday and Saturday December 2nd and 3rd, while the "Running of the Gourds" - one of the nation's largest gourd art events - is scheduled for February 2012 at the Pinal County Fairgrounds in Casa Grande, Arizona.