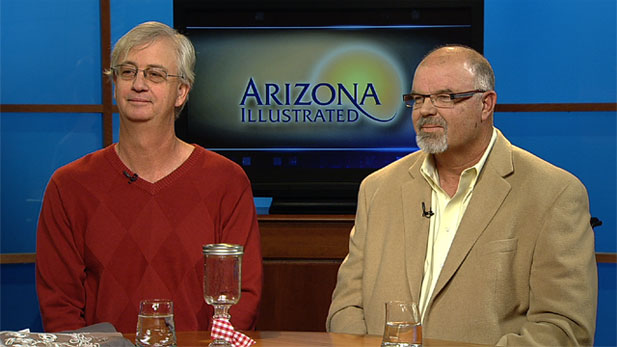 PHOTO: AZPM
North Fourth Avenue merchant Craig Wilson (left) and Kurt Tallis, the avenue's marketing and events director, preview the winter street fair.
Twice a year the Fourth Avenue Merchants Association hosts the Fourth Avenue Street Fair. The winter show begins Friday and will continue until Sunday.
The fair will showcase more than 400 artists and 35 food booths, and expose North Fourth Avenue's permanent merchants to hundreds of thousands of visitors.
"It's huge exposure over three days, and iconic in nature, " says Kurt Tallis, marketing and events director for the Fourth Avenue Street Merchants Association.
Craig Wilson is a 30 year veteran of the street fair and owner of two shops on Fourth Avenue, Creative Ventures and Breakout Studios. Wilson says the fair provides exposure and marketing and healthy competition from the many vendors who rent tents for the show.
Along with handmade goods and unique art work, the fair provides two stages, one for professional acts and one for local dance groups.
"Fourth Avenue is a street of dreams. There's 100 merchants there, and each one of them has a dream. My job is to help them realize that dream," Tallis says.