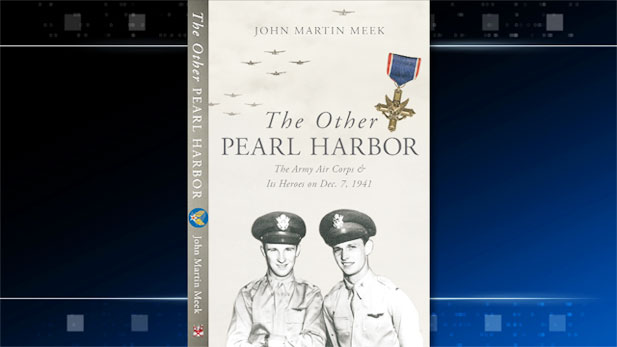 PHOTO: AZPM
John Martin Meek, author of the book The Other Pearl Harbor: The Army Air Corps & its Heroes on Dec 7, 1941.
In time for the 70th anniversary of the attack on Pearl Harbor, Green Valley resident John Martin Meek has published an account that adds details to that day of infamy.
Meek's book details the bravery of two lieutenants who were in Hawaii on Dec. 7, 1941 and who received the Distinguished Service Cross for their heroism in response to the surprise attack by Japanese forces.
Meek says he spent years conducting interviews and research for his book because he wants to share the story of Lt. Ken Taylor and Lt. George Welch so that more people are aware of their sacrifice and commitment to protecting the United States.
Even though Meek maintained a 40-year friendship with Taylor, who died in 2006, it wasn't until a year later that he decided to write a book. He was having dinner with Pearl Harbor historian Daniel Martinez in Hawaii when the idea came up.
In addition to spreading the message contained in his book, Meek says he would also like to see a permanent, accessible memorial to honor the hundreds of Army and Army Air Corps personnel who fought and were injured or killed 70 years ago.
The attack on Pearl Harbor claimed more than 2,300 U.S. service members' lies and left more than 1,200 wounded. The USS Arizona was among the eight battleships sunk or destroyed, and another 10 U.S. Navy ships were destroyed along withn more than 160 aircraft.