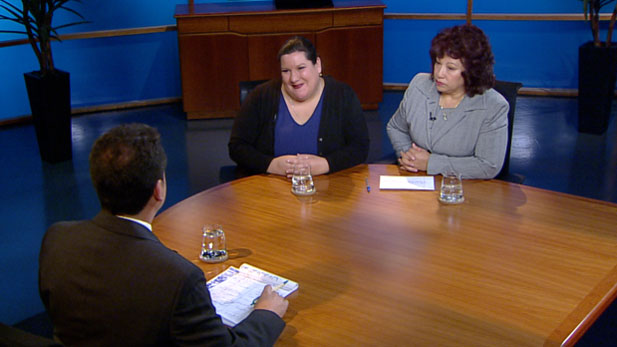 PHOTO: AZPM
Juanita Molina (left), executive director of the Border Action Network, and rights activist Ana Santoyo say they advocate for immigrants regardless of their status.
The Border Action Network has named Juanita Molina as leader of the community-driven organization.
[Border Action Network[(http://www.borderaction.org/web/) says its mission is to advocate for the rights of border, refugee and immigrant communities in Arizona, regardless of their immigration status. The group's work often is controversial and is criticized by those who advocate for tighter restrictions on immigration, especially illegal immigration.
Molina says she takes it all in stride. She's been working on social and political organizing groups for two decades, including Humane Borders where she is also juggling the job as executive director.
She believes Border Action Network and similar organizations can help address important topics that have been talked about for years but haven't been acted upon by federal officials.
Among them are ideas that would provide legal working permits for seasonal workers in economic sectors such as agriculture. They could come to the United States to perform their jobs and then return to their respective countries.
"Their hope is to be able to cross, to work for a limited amount of time and be able to return to their homes," Molina says. "If we were looking at this from a humanist point of view and created the right kind of labor opportunities for people it would be a much different situation."
And Molina says she's already staying busy by making plans for 2012.
"Our goal for next year is to engage as much of the community as possible. We're really looking for volunteers who would be involved in civic engagement projects, to be able to educate our community and to know that our voice counts," she says.