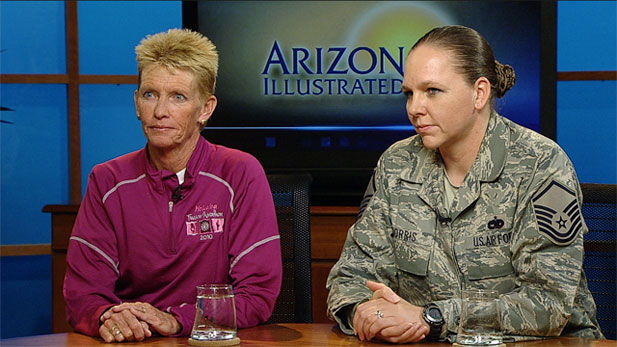 PHOTO: AZPM
Ann Reed (left) an organizer of Tucson Marathon and Kristin Morris (right) a volunteer and former marathon runner talk about the Tucson Marathon.
The Tucson Marathon began in 1995 with about 800 participants, but now the annual event attracts thousands of people to southern Arizona for one weekend in December. They've come from dozens of states and countries in the past and many have returned to participate another year.
The events for 2011 include a 5K and 10K run on Dec. 10 with the full 26.2-mile marathon on Dec. 11. It begins in the town of Oracle, north of Tucson, and ends in Catalina, which organizer Pam Reed says is an amazing route.
"It's such a beautiful course and, honestly, I run all over the world and running in Tucson is the best ever with the air and you know, the dryness," Reed says. "I don't know what it is, I just think it's the greatest."
Reed began running when she was about 15 years old in order to improve at tennis, but she discovered marathons when she was 28 and has been hooked ever since.
Kristin Morris has also become a big fan of this challenging physical and emotional activity. Morris is in the United States Air Force and just returned to Tucson from a one-year deployment in Afghanistan. She's not ready to run in this year's marathon but wanted to do her part so she decided to volunteer.
Morris recommends that would-be marathoners start out slowly and set small goals at the beginning so they can gain confidence as their physical fitness improves. Eventually, when you do take on the big race, she suggests you just concentrate on finishing it, even if requires walking part of the way.
"It's the best feeling in the world when you cross that finish line and just experiencing all the people. It's amazing," Morris says.