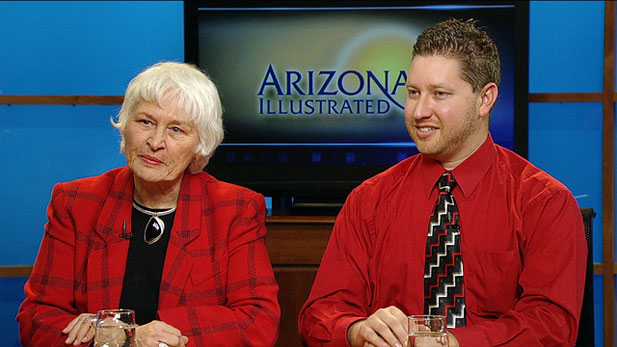 PHOTO: AZPM
Joan Lionetti (left) executive director, and B.J. Cordova (right) director of programs at Tucson Clean and Beautiful talks about their needs for volunteers to clean up parks next year.
Tucson Clean and Beautiful is looking for more volunteers, in preparation for the new year, to clean up parks, washes and roadways. There are more than 500 sites that need cleaning in Tucson, program officials say.
Volunteer work is vital to the improvement of not only the city's environment but also its economy.
"Economic development depends on a clean and beautiful city," Joan Lionetti, executive director of TCB, says. "What we are looking at is all the major corridors."
The adopt-a-public-area program is one of Tucson's oldest programs. People can either adopt a park, roadway or wash.
B.J. Cordova, director of programs for TCB, says volunteers are expected to clean their adopted sites once or twice a month, working in groups of four or five.
TCB recognizes volunteers in a unique way.
"If the group agrees to adopt ongoing, they have a sign that will be posted and name of the group as a recognition opportunity for that group to be known for its effort," Cordova says.
One of TCB's focuses is cleaning the main corridors throughout Tucson.
"One of our prime areas for our local economy is Tucson," Lionetti says. "When you come into the airport that's the first impression of Tucson."
Cordova says the organization also encourages recycling by asking residents to consider the trash as the last place to toss something.
To volunteer, go to Tucson Clean and Beautiful's Website at www.tucsonaz.gov/tcb/.