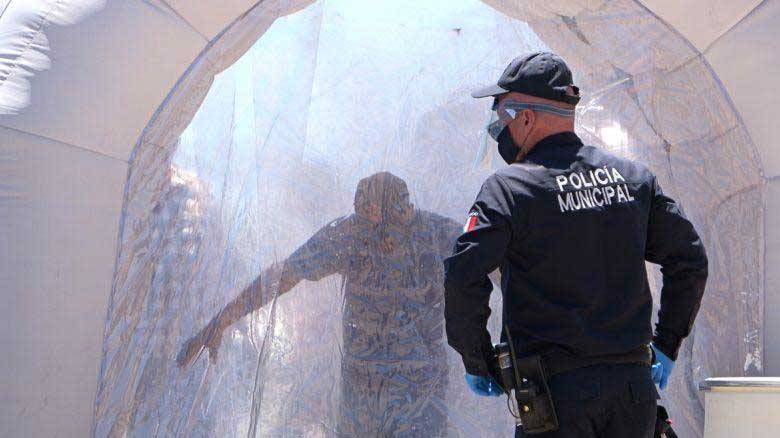 VIEW LARGER The Nogales, Sonora, city government installed a "sanitation tunnel" at the Mariposa Port Of Entry on May 6, 2020, and plans to install four other tunnels in an effort to prevent the spread of the coronavirus.

Gobierno Municipal de Nogales
HERMOSILLO — The city of Nogales, Sonora, installed its first so-called "sanitation tunnel" Wednesday, just south of the Mariposa Port Of Entry in an effort to curb the spread of the coronavirus from the United States into Mexico.
Southbound travelers are being required to walk through the inflatable plastic tunnel to be sprayed with disinfectant.
"It generates a film on the skin, on the clothes, that can last 15-14 hours, protecting you from the virus and from bacteria," Nogales Health Director Jesús Alberto Dicochea said in a video of the tunnel released by the city, adding that the Quaternary disinfectant solution used in the tunnel is biodegradable and non-irritating.
This is the first of five disinfecting tunnels the city plans to put up at its two ports of entry as well as at local hospitals.
The tunnels have become common in Mexico during the pandemic. However, Mexico's health secretary has advised against using them because the disinfectant could damage the skin, eyes and lungs of people who pass through the tunnels, or even potentially spread the virus by causing people to cough.

Fronteras Desk
is a
KJZZ
project covering important stories in an expanse stretching from Northern Arizona deep into northwestern Mexico.