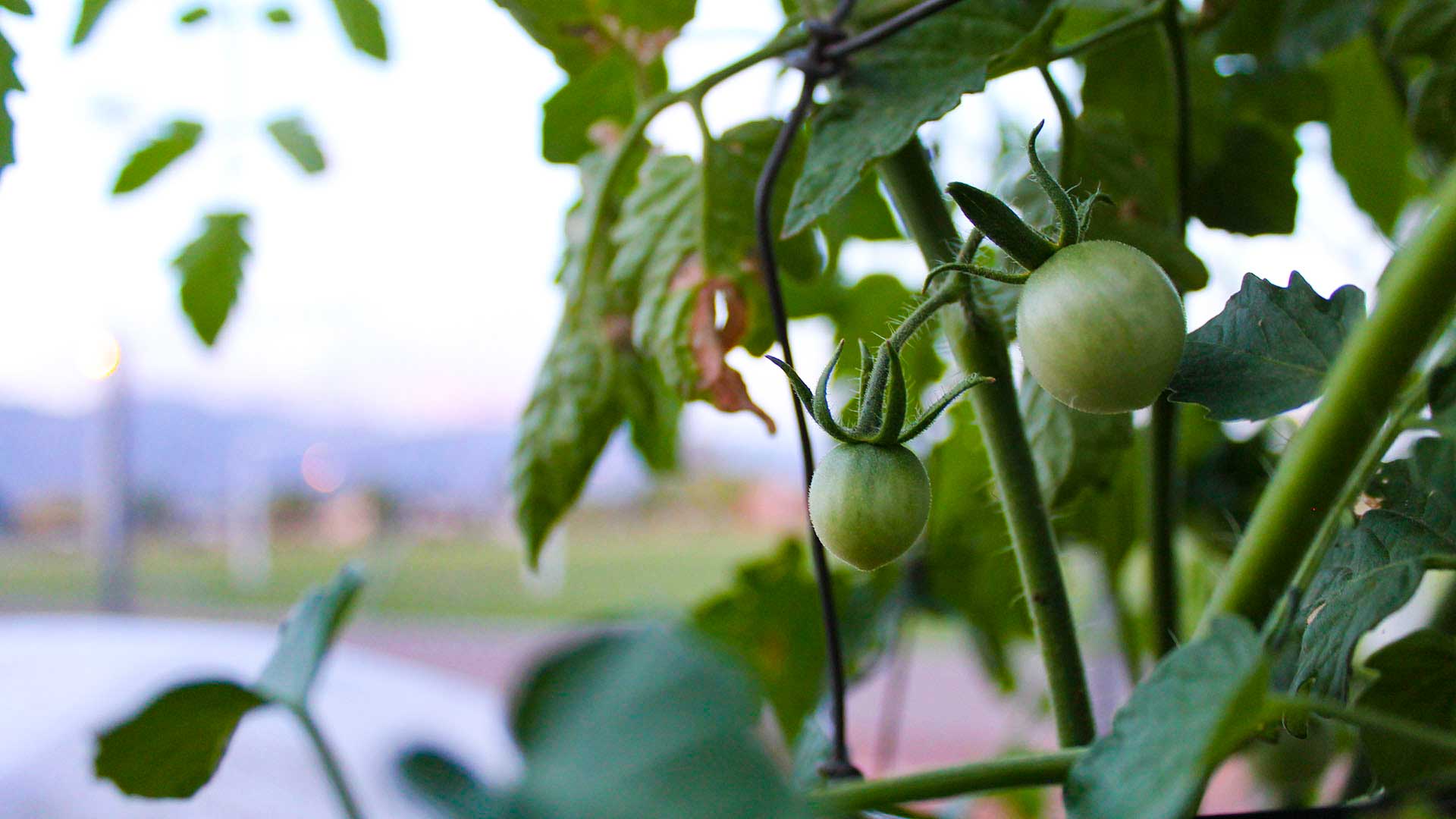 A tomato plant at a Community Gardens of Tucson garden.
Emma Gibson/AZPM
Consistency: It's a quality that's been hard to find in recent months. For some Tucsonans, their gardens have been a reliable oasis to nurture cucumber seedlings, hungry bees and their own mental health.
It's not uncommon to hear the gardeners within the Community Gardens of Tucson, including myself, share stories with each other about the change of seasons, the rise of the pandemic and what seems like an increased interest in gardening around the country. Jan Deligans, site coordinator at a garden in Mansfield Park, said their garden provides people with the space to safely socialize with others.
"These days, one other thing I love to be in a garden for is to meet friends. Right now, being outdoors with people with proper social distancing is about the only social game there is," said Deligans who is 72 years old. "For me, [the garden's] been a lifesaver as far as having a sense that there's another human I'm going to be able to talk to."
She said the garden had an irrigation problem last August that resulted in all but three of the gardeners leaving, but now every plot has a purpose with a new batch of gardeners and via a partnership with a local food-share group that planted the unclaimed plots.
Renee Kargleder, a 29-year-old sixth-grade teacher at Paulo Freire Freedom School, rented a plot at the Mansfield Park Garden in March as more people in Arizona were identified as COVID-19 positive. She said that she has wanted to garden for a while but never acted on it. She said now that she's teaching online, the pandemic has become "the fuel under [her] feet" to get planting.
"We need to be seriously planting food, being mindful of how we're using our time and energy. ... I'm trying to be prepared," Kargleder said. "I'm trying to use this down time to make myself stronger and make my community stronger."
She said working in the garden has improved her ability to cope with the pandemic, from stocking her fridge to calming her mind.

"There's something precious about watching things grow," Kargleder said. "I think you get an appreciation for time, and you get patience. You literally see and are attentive to the little things, the details, that eventually create much larger and really delicious outcomes. Patience is the most healing thing right now for our mindsets, because we're going to be in [the pandemic] for a long, long time."
David Sbarra, a professor of psychology at the University of Arizona, said during the pandemic it's common to feel anxious about the unpredictability of the situation, but people could also feel lonely, depressed or isolated.
He said any recreational activity that helps someone de-stress can help one's mental health.
"One unique feature of gardening that may make it more prized than some other behaviors is that there's fairly good evidence that nature and exposure to green space has a particularly beneficial effect on our psychological well-being," said Sbarra.
He said that as gardeners shovel, rake or just check up on their plants, they ground themselves in the moment.
"You're really tuning into what's going on right in front of you — How are your plants looking? How are they doing? What do they need? And not being stuck on what has happened or what will happen," Sbarra said. "There's a considerable amount of evidence that this is important for our mental health and well-being."
Sbarra said he thinks being in nature can help people disconnect from the thoughts of the pandemic, and going to the garden also helps people structure their schedules at time when many people's lives have changed — both of which are benefit one's mental health.
Kargleder, the new gardener at the Mansfield Park Garden, said besides the mental and spiritual benefits she receives from gardening she also values growing her own food.

"I think about so many people in so many places of the world who don't have food and to who food was already a scarcity," Kargleder said. "Now with the pandemic, it's like fourfold."
She's not the only gardener thinking about food scarcity these days, either. Tucson Food Share, a spinoff of a local group that tries to reduce food waste by redistributing it to those in need, partnered with Community Gardens of Tucson to grow food in some of the empty plots at a couple of its gardens.

Se, who does not want to share their last name to protect their privacy, said the gardening branch of Tucson Food Share is the Mutual Aid Garden Brigade. They said not only is the brigade planting some plots with tomatoes, sweet potatoes and more, but it's also gathering harvests from other plot owners to distribute to people who need free groceries. Se said people can pick up their groceries directly from the food share's distribution location or, if someone is self-isolating, request a delivery.
"It's definitely a response to the pandemic and an effort to build more community trust and cooperation and resilience through this pandemic, but it's nothing that we think is only necessary because of the pandemic," Se said.
According to the Community Food Bank of Southern Arizona, 153,150 people in Pima County don't have reliable access to affordable food. Se said that the food share creates a grocery bag that will feed one-to-two people, but those in need can pick up more than one bag depending on the number of people who are being fed.
"We use the word 'solidarity' a lot," Se said. "It's showing that we're in this together and communicating to each other that we're here for each other. That helps us hopefully feel a little more safe and secure knowing that our communities have our backs, and we're not going to just be left alone."