Award-winning pop sensation David Archuleta and Grammy Award nominee Michael York join the renowned Mormon Tabernacle Choir in an energetic Christmas celebration of magnificent proportion.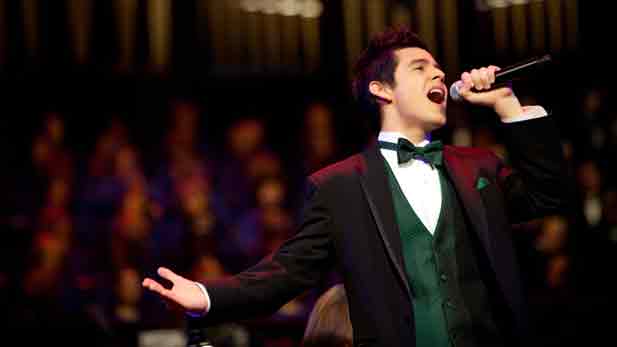 David Archuleta performs "Joy to the World" with the Mormon Tabernacle Choir at the Conference Center in Salt Lake City. (PHOTO: PBS)
Recorded before audiences totaling 80,000 people, this spectacular event combines elegant dancing, masterful musical performances and storytelling. Complete with Yuletide favorites such as "Silent Night" and "Joy to the World," the memorable performance also includes unique music such as "Los Pastores a Belén," sung by David Archuleta in Spanish, and Michael York's touching tale of the humble beginnings of the Mormon Tabernacle Choir, together with moving organ, choir and orchestra performances.
Christmas with the Mormon Tabernacle Choir, Thursday at 8 p.m. on PBS-HD.