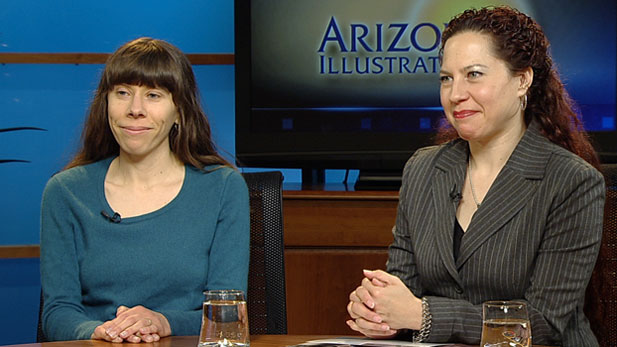 PHOTO: AZPM
Borderlands Theater writer Wendy Burk (left) and education and outreach manager Alida Wilson-Gunn (right) discuss their controversial holiday production.
Taking the title as the longest running theater production in Tucson, A Tucson Pastorela will be showing for the 16th time this holiday season.
Created and directed by the Borderlands Theater Company, A Tucson Pastorela is an ever-changing story in song and rhymed verse, rewritten each year to reflect--primarily through satire--recent and current events in the community.
Writer Wendy Burk and Alida Wilson-Gunn, Borderlands Theater education and outreach manager, join Arizona Illustrated to discuss the play's centuries-old heritage and the modern twist Tucson has brought to the tradition.
"It's very, very much particular to Tucson," says Burk, who also co-wrote the play last year. Burk, husband Eric Magrane and the rest of the writing team met as early as May to begin their work on the play, which will also feature folkorist "Big Jim" Griffith as a special guest this year.

This year, A Tucson Pastorela runs from December 15 to December 18 at the Leo Rich Theater.