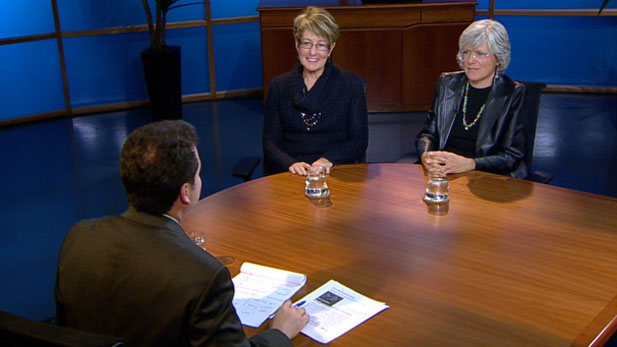 PHOTO: AZPM
President Mary Ann Pogany and Treasurer Charlotte Poole of the Friends of Oracle State Park say the park will re-open in two months.
Oracle State Park is scheduled to re-open to the public Feb. 4, two years after it was closed because of state budget cuts.
The park, originally opened and dedicated in 2001 on former Pinal County ranch land, was among several state parks that would fall victim to the financial crisis in Arizona.
Now, Oracle State Park is getting a second chance thanks to a coalition of community members and volunteers.
Friends of Oracle State Park is made up of volunteers committed to raising money so that this natural neighbor can accessible part of the year and for special events.
Mary Ann Pogany, the group's president-elect, says the park is a great destination for many activities in addition environmental education, one of its missions.
"And in addition to the education and the children's programs, it's a park that's wonderful for hiking, cycling, equestrian, birding, you name it," she says. "It's a full state park with a lot of recreational activities."
The group will raise money through a golf tournament Jan. 12 SaddleBrooke Ranch and then conduct a grand re-opening ceremony and a free day in the park on Feb. 4.
Charlotte Poole, an Oracle resident who decided to join the friends group, says the park's closure brought people together.
"Once the park closed I think more people got involved because we took it for granted," Poole says. "And we realized how important it is to us now in the community, and I've gotten involved because I wanted to help them get it opened again."

Oracle State Park is on the Mount Lemmon about one mile north of Oracle, which is on Arizona Route 77, about 40 miles north of Tucson.