Mezzo-soprano Joyce DiDonato hosts the concert and sings the aria Una voce poco fà from The Barber of Seville.
The concert, which took place at New York's Avery Fisher Hall, includes several of the world's most celebrated stars performing some of opera's most popular arias, duets and ensembles. Mezzo-soprano Joyce DiDonato acts as the host of the concert, which also features renowned artists Renée Fleming, Simon Keenlyside, Diana Damrau, Matthew Polenzani, Maria Guleghina and Luciana D'Intino. DiDonato, a rising superstar in the opera world, was a surprise addition to the concert, replacing another singer at the last moment. She was an audience sensation.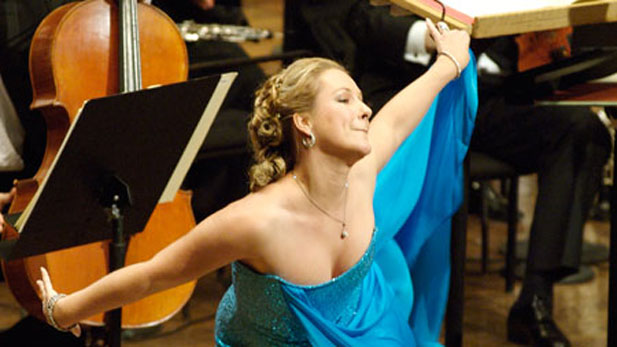 German soprano Diana Damrau brings down the house with her performance of "Glitter and Be Gay" from Leonard Bernstein's Candide.
Among the many highlights of the concert are DiDonato's aria, "Una voce poco fà" from The Barber of Seville, which The New York Times raved was "among the most spectacular vocal feats this listener has ever heard, thrown off with ease, a sense of fun and pinpoint control." DiDonato also sings in two spectacular duets with distinguished colleagues: Mozart's Cosi fan tutte with the soprano Renée Fleming and the sublime "Presentation of the Rose" from Strauss' Der Rosenkavalier with German soprano Diana Damrau.
Watch it Monday, December 15th at 9:00 p.m. on PBS-HD