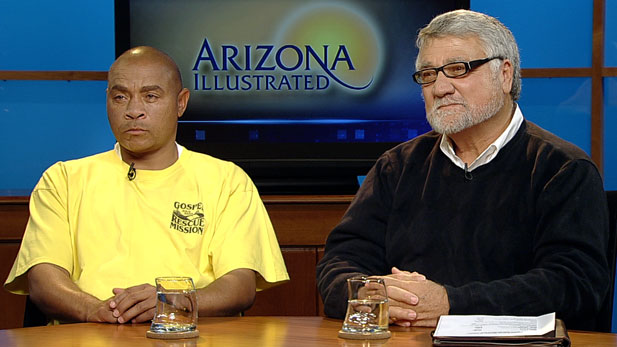 PHOTO: AZPM
Client Alfred Davis (left) and Director of Development Scott Munro of the Gospel Rescue Mission discuss holiday help for the needy.
Tucson's Gospel Rescue Mission will hold its 23rd Holiday Street Banquet Wednesday, with plans to serve more than 4,000 meals to the homeless and others in need.
"For most of the people that show up, this is their Christmas meal [and] this is where they are going to get toys for their kids," says Scott Munro, director of development for Gospel Rescue Mission.

Munro says the mission served 3,300 guests for Thanksgiving dinner, 700 more than the previous year. The mission expects a similar increase for the banquet.
The event not only helps the guests but it also helps clients of Gospel Rescue Mission.
Alfred Davis, a client at the men's center who serves food at the banquet, says he has enjoyed his 18 months at the mission. Without it, he says, he would be idle.
"I think I would be running around doing nothing," he says. "I'm glad I came here. It keeps me busy, off the streets, and I like it."
The mission also collects toys for its Hope for the Holidays drive, in which it partners with Peter Piper Pizza, where people can donate toys.
Munro says he expects the mission to give out 6,000 gifts to children.
"I don't think there is anything better than being able to be in a position where you can help people that need help," he says. "That's what we are really all about. If you are working at a place where you are able to help people in so many different ways it's a great place to be."
To donate to Gospel Rescue Mission, click here