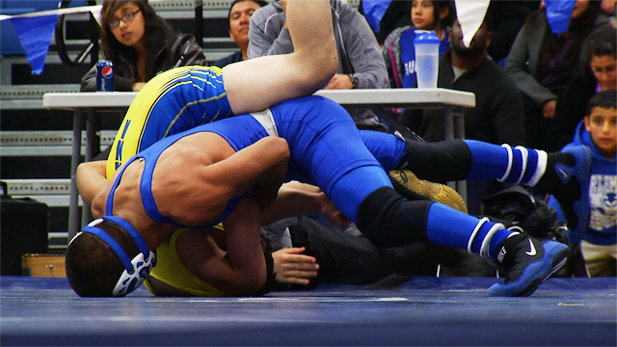 Name any sports team dynasty. Any sport. Any level. Anywhere. Whatever the team is, chances are pretty good it can't beat the record of success Sunnyside High School's wrestling program has established over the past 30-plus years.

AZPM
Sunnyside High School Wrestling is a sport with a rich legacy that helps define the identity of an entire community.

Johnny Lopez, a Sunnyside wrestler from 1984 to 1988, has two sons that are part of the program and he says kids here are "born into the sport." The training takes place in the wrestling room where the temperature exceeds 100 degrees during each practice session, and Lopez says that's where each state championship has been built.
"When I was in here it was murder, and now it's back to the way it was," Lopez says. "This coach is doing an excellent job."

Anthony Leon is the new head coach of the Sunnyside wrestling team. It's his first year on the job and he says the students relish the sport. He sees the team as a way for the students to gain self-confidence and a sense of discipline that can transfer to other aspects of life.

"It means much more than wrestling, it's given these kids an opportunity," says Leon. "A lot of these kids have had to struggle, and the one thing they find here at the Sunnyside wrestling room is a sanctuary for two or three hours a day, where they can forget about everything and they can worry about, one, continuing the legacy, and two, creating their own legacy."
Name any sports team dynasty. Any sport. Any level. Anywhere. Whatever the team is, chances are pretty good it can't beat the record of success Sunnyside High School's wrestling program has established over the past 30-plus years. (VIDEO: AZPM)