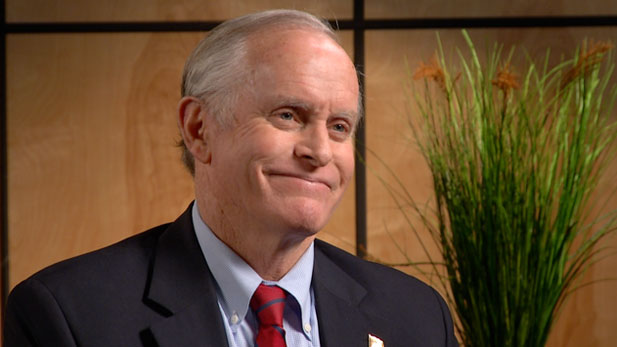 Republican Senate President Steve Pierce shares state legislators' plans for 2012.
Arizona needs a status quo state budget for next fiscal year, state Senate President Steve Pierce says.
Pierce, R-Prescott, said in an interview for Arizona Week that while the state is bringing in more revenue, it won't change the amount of money the Legislature will allow to be spent in the next fiscal year.
"I would suspect most of the budget's going to be pretty much like it was last year," Pierce said. "I don't look at any great cuts. I don't look at anything drastic. I think we made cuts last year that were good cuts."
Democratic Rep. Matt Heinz, D-Tucson, said he hopes that the Legislature can find a way to restore some of the cuts for indigent health care and, perhaps, education.
In response to Pierce's comment that there will be no change in the budget, Heinz said: "If that means not allowing any of the $400 million plus surplus that we now expect to be diverted to help bolster some of the programs that were cut so severely during the last several budget cycles, I would have to disagree."
Republican Gov. Jan Brewer has said she wants to see some of the surplus go toward more tourism promotion for the state.
Pierce is less than two months into the job of Senate president, having been the Republican caucus selection to succeed Russell Pearce after voters in his district replaced him in a special recall election last month. Republican Jerry Lewis won the election and has joined the GOP caucus.
Pierce said he expects to move business along quickly in the legislative session that s scheduled to open Jan. 9 in Phoenix. He said the Legislature's only required work is the state budget.
He said, though, that it likely will look at reform of the Child Protective Services agency and further incentives to encourage business and job growth in the state.
Immigration also is likely to come up again as a legislative issue, but Pierce said he doesn't think more work is needed, besides keeping the border secure.
"We have done a lot with immigration, illegal immigration," Pierce said. "Even last session, there were about 12 bills that touched on it. And, I think we've done what we need to do right now."
Pierce, in fact, was one Republican senator who said no to several bills moving through the Senate in the last session, earning the rebuke of his predecessor, Russell Pearce, who had been a champion of such legislation.
Reporters Michael Chihak and Andrea Kelly dig further into the state legislative agenda for 2012 on Arizona Week. Watch it here: