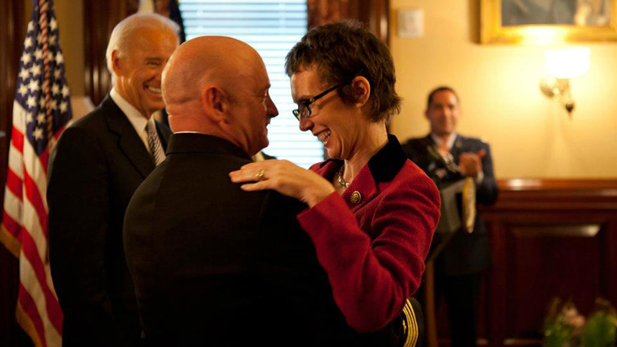 PHOTO: Official White House Photo by David Lienemann
U.S. Rep. Gabrielle Giffords, still recovering from a bullet wound to the head, congratulates her husband, astronaut and Navy Capt. Mark Kelly, after he is honored by Vice President Joe Biden.
Four major news stories stood clearly ahead of all others in Arizona in 2011, touching the lives of every state resident in one way or another.
Arizona Week's final episode of the year explores the dominant stories via its on-air interviews and discussions during the last 12 months.
Jan. 8 and Aftermath
The Tucson shooting tragedy carried the state, and Tucson in particular, through a collective grieving process, for the six who were killed and the 13 who were wounded, including U.S. Rep. Gabrielle Giffords.
The shooting left Giffords seriously wounded and threw into uncertainty her political future.
Among Arizona Week interviews on the topic was a December conversation with Giffords' husband, Mark Kelly, at the couple's home in Houston. There, Kelly characterized Giffords' work ethic in Congress and said her decision to continue will depend on her ability to work at a similar level and to communicate.
"The way she served in Congress, if she was awake, she was workin'," Kelly said. "She would get up in the morning, and she would not stop until she went to sleep late at night, or sometimes early the next morning."
Arizona's Economy
Tourism rebounded, but unemployment remained high, construction was depressed and rural parts of Arizona especially struggled to recover from the recession.
The Legislature passed a "competitiveness package," lowering business taxes and providing money for incentives to draw businesses to the state to create high-quality jobs.
Arizona Week spoke with several economists, businesspeople, policymakers and analysts during the year to gauge the state's economic changes. Among them was Jim Rounds, senior vice president and economist with Elliott D. Pollack & Co. of Scottsdale.
"What we do great here, in Tucson and Phoenix, across the state, is create jobs — low-wage jobs," Rounds said in a September interview, adding that to meet its high-quality jobs creation goal, the state must focus on those businesses that will bring six-figure jobs to Arizona.
State Budget
Arizona's Legislature faced a deficit of more than $1 billion at the start of the fiscal year. Gov. Jan Brewer and legislative leaders vowed to erase it without raising taxes.
The governor presented a budget that included a number of accounting rollovers and other gimmicks, but the Legislature quickly turned it down, leading to drastic cuts in spending for education at all levels and health care for the poor.
Brewer negotiated smaller education cuts, but the net effect was still more than $400 million trimmed from universities, community colleges and K-12.
"I protected education to the best of my ability," Brewer said in April, one of three Arizona Week interviews for which she sat down during the year. "I feel like I was a backstop. I think it's important to the people of Arizona that it is protected."
Redistricting
Attempts to infuse political dominance into Arizona's congressional and legislative redistricting process started early in the year and didn't let up, even as final maps were approved on Dec. 20.
Arizona voters in 2000 approved a constitutional amendment that took redistricting away from the Legislature and gave it to the Arizona Independent Redistricting Commission. The five-member body includes two Republicans, two Democrats and one independent to serve as chair, and thus it is by nature a political body. But independence from overt political influence was the stated goal of those who wrote the constitutional amendment.
Gov. Brewer and legislators took umbrage at the leadership of commission chair Colleen Mathis, saying she leaned Democratic, violated the state's Open Meeting Law and breached the constitutional requirements in the draft maps.
Brewer asked the state Senate to remove Mathis, and it did on a 21-6 vote in November. On appeal, the state Supreme Court overturned the decision and reinstated Mathis, who resumed leading the commission to final map approval. The votes on both congressional and legislative maps were split.
Adolfo Echeveste, a Tempe resident who was executive director of the Independent Redistricting Commission from 2001 to 2009, told Arizona Week in April near the beginning of this year's process that the system insulates against politics.
"You took redistricting out of a smoke-filled back room of being done by the controlling party without any input by the minority party," Echeveste said.
Watch Arizona Week's final episode of 2011 summarizing the year's top stories here.