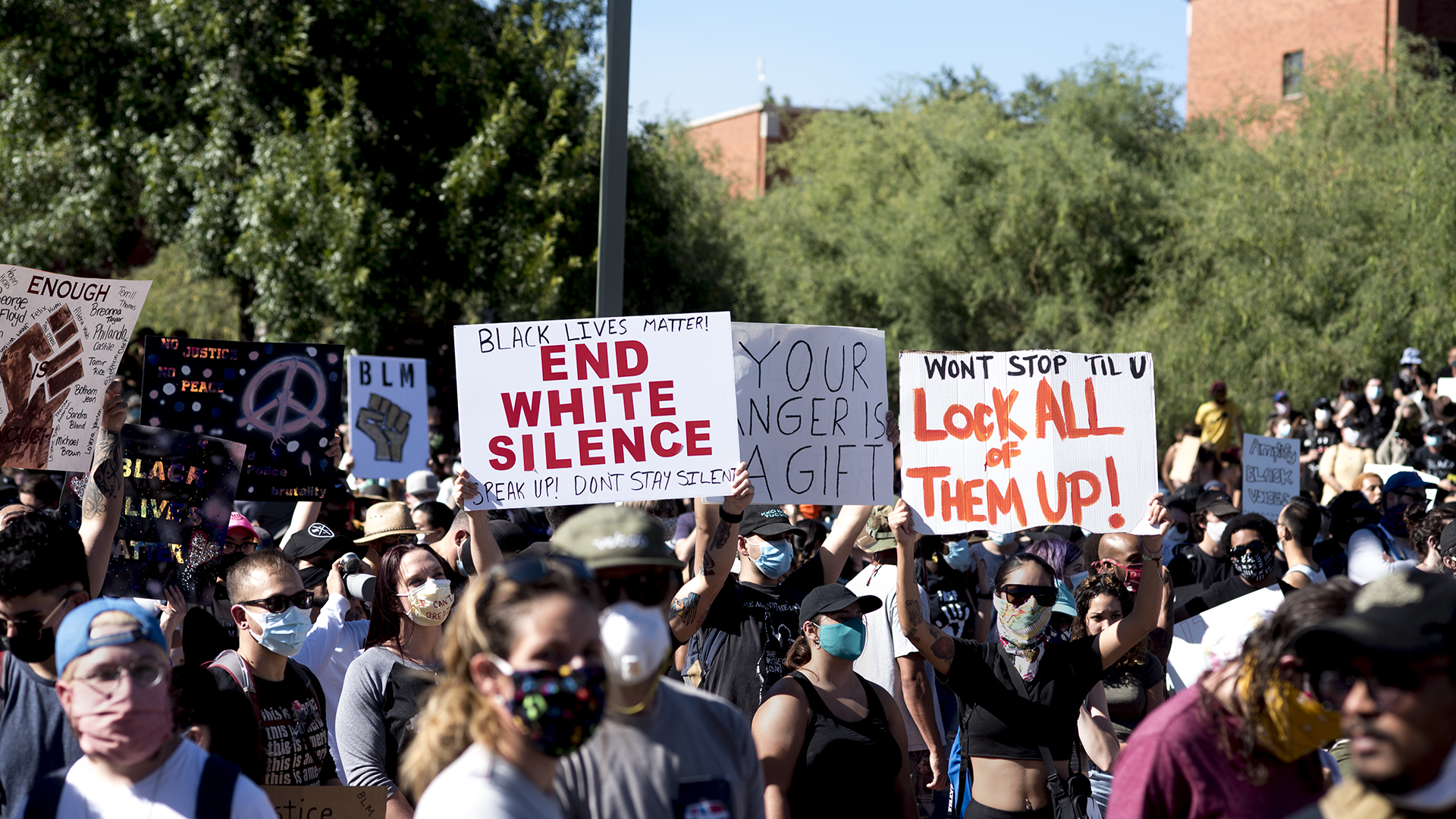 Demonstrators hold up signs recognizing George Floyd and condemning police brutality during and Black Lives Matter Tucson event on June 6, 2020.

Alisa Reznick / AZPM
At least 3,000 people gathered on the University of Arizona campus Saturday afternoon for Black Lives Matter Tucson: Celebration of Black Lives, an event commemorating George Floyd and highlighting racism and police brutality problems speakers said still persist in Arizona.
Speaking to the crowd, Black Lives Matter Tucson member Tiera Rainey said she was happy to see so many Tucsonans. But those who were really committed to making change must take their support beyond social media and the event.
"I have never seen anything that looks like today, but this is not the destination, as many who have spoken before me have said, this is the beginning," she said. "Are you committed to doing the work?"
Rainey said in the past, the Tucson community has failed to support Black Lives Matter causes and denounce racism in a meaningful way. She also said despite assurances from UA President Robert Robbins that police would not be on campus, a heavy police presence was still spotted before the event began. As she spoke, a police helicopter circled above the event.
"I see your complicity, Arizona," Rainey said.
Rainey was one of several speakers and performers at the event, including locals like hip hop artist Cash Lansky and electronic artist Flor de Nopal.
Audience members held signs with George Floyd's name and calls to end white supremacy and police violence.
Many called for defunding the Tucson Police Department. They also highlighted the killing of Breonna Taylor, a 26-year-old emergency medical technician who was killed after being shot at least eight times by Louisville police as they carried out a search warrant in her home, and Philando Castile, a 32-year-old who was fatally shot during a routine traffic stop in St. Anthony, Minnesota.
The crowd fell silent for 8 minutes and 46 seconds — the amount of time former Minneapolis police officer Derek Chauvin pressed his knee into Floyd's neck.
After the event, several hundred protesters marched down Fourth Avenue toward downtown. A smaller group faced off with police on Congress St. without incident for almost an hour past the 8 p.m. curfew before returning to campus.
On Sunday, Black Lives Matter Tucson said on Twitter it would no longer work with the university to host events because the agreed-upon limit on police presence had not been honored.
"Despite assurances that were made to the UA BSU (Black Students Union) that UAPD would not have a visible presence at yesterday's event, BLM-Tucson organizers arrived to see police vehicles and dozens of uniformed cops arriving with duffels filled with tactical gear," said one post. "BLM-Tucson has made the decision that we will never host an event in collaboration with the UA again. This is not how you take care of the welfare of your black students."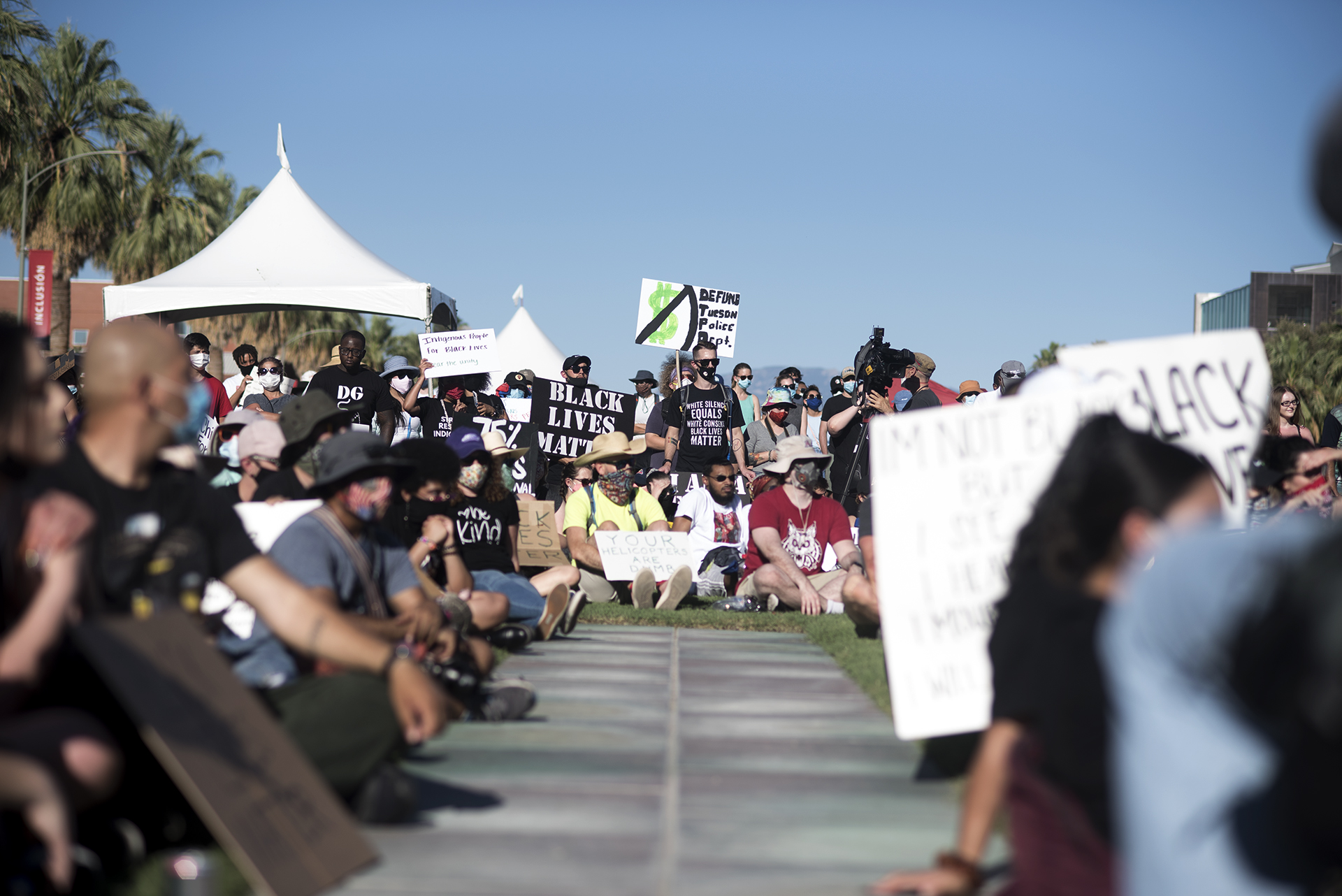 VIEW LARGER Demonstrators hold signs against police brutality and violence during the Black Lives Matter Tucson: Celebration of Black Lives on the University of Arizona campus.

Alisa Reznick / AZPM
VIEW LARGER Protesters shield themselves from the afternoon sun.

Alisa Reznick / AZPM
VIEW LARGER Tucson resident Lupira Chavez rides a tricycle she says she her boyfriend made originally in honor of an friend's death. Now in commemorates Breonna Taylor, Ahmaud Arbery and George Floyd.

Alisa Reznick / AZPM