Listen:
Many small towns in Arizona were founded because of their proximity to rich veins of extractable metals. Places like Bisbee and Superior, Helvetia and Gleeson.
Helvetia and Gleeson? These are two names that are unlikely to show up on many of today's maps of Arizona. They're mining towns gone bust. Former boom towns that were unable to survive the tumultuous metals markets and simply withered and died.
Tucson author William Ascarza chronicles the early history of these towns - the ones that made it and the ones that didn't. His new book Southeastern Arizona Mining Towns (Arcadia Publishing) takes the reader back to the rough and raw times of early 20th century Arizona.
We learn of the World's Fair and Old Dominion Mines, and of long-dead towns like Helvetia, Silver Bell and Gleeson. We also get a glimpse at early life in communities like Bisbee and Superior, towns still alive today but struggling with issues new and old.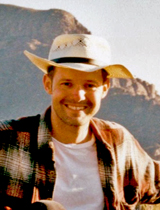 Tucson author William Ascarza has written 3 books and co-authored another. (PHOTO: Courtesy of William Ascarza)
Ascarza says several factors led to the survival of some towns, and the destruction of others. Bisbee and Globe, for example, were near mines that were owned by large corporations, who were able to ride out the volatility of metals markets.
But places like Helvetia, for example, were largely populated by small-time prospectors who were financially unable to survive busts. The moment a mine stopped producing, or it's output stopped selling, the miners moved on. And the towns they founded soon died.
William Ascarza sat down recently to talk about his new book. He says he's fascinated with the region's history, and hopes to pass along his passion for the subject to his readers. The Tucson-based author has also written books on the Tucson and Tortolita Mountains, and co-authored a book on the Arizona-Sonora Desert Museum.