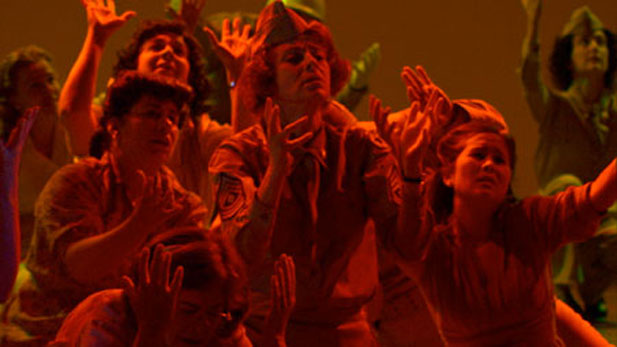 The San Francisco Opera chorus sings "All the worlds are fear-struck" from the Bhagavad-Gita in John Adams and Peter Sellars' opera Doctor Atomic.
WONDERS ARE MANY goes behind the scenes to follow the collaborative process of composer John Adams and director Peter Sellars as they work to forge the tale of J. Robert Oppenheimer into a music drama like no other: the strange and beautiful Doctor Atomic. As Sellars and Adams struggle to make high art from the most savage weapon in history, the film explores the spectacular and unnerving 60-year history of nuclear weapons. It shows the real events behind the drama on stage and the unintended consequences of the actions—and inactions—of men working on the first nuclear device. WONDERS ARE MANY airs on Monsday, December 29th, at 9 PM as part of the seventh season of the Emmy® Award–winning PBS series Independent Lens, hosted by Terrence Howard.
Weaving the intense and sometimes hilarious process of making an opera with newly declassified historical film clips of Robert Oppenheimer, the Manhattan Project and nuclear testing, WONDERS ARE MANY focuses on the 48 hours leading up to the Trinity atomic test in July 1945.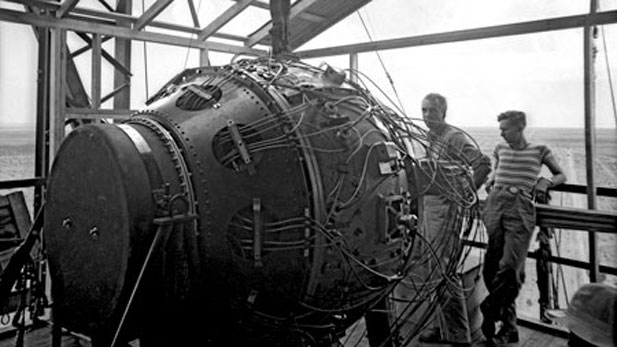 Trinity test bomb, atop its tower in the New Mexico desert, July 1945, shortly before the world's first nuclear test.
The film unfolds in the deserts of Nevada and New Mexico and in the backstage frenzy at the San Francisco Opera. At the center of a swirling vortex of singers, scenery, physicists, stagehands and bombs stand the indomitable Sellars and Adams. Simultaneously tracking the creation of both the bomb and the opera, the film builds in tension toward the terrible and inevitable bang.
To learn more about the film and the issues, visit the companion website for WONDERS ARE MANY at pbs.org. Get detailed information on the film, watch preview clips, read an interview with the filmmaker, and explore the subject in depth with links and resources. The site also features a Talkback section for viewers to share their ideas and opinions.