Like so many others affected by the Tucson shooting last year, Matthew Laos wasn't at the Northwest Side Safeway when shots disrupted the morning. He left just moments earlier, after he was the first person in line to speak to U.S. Rep. Gabrielle Giffords at her Congress On Your Corner event that day.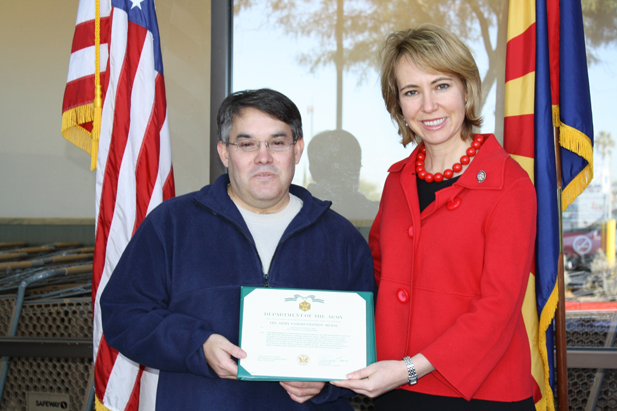 PHOTO: Courtesy of Rep. Gabrielle Giffords' office
Matthew Laos (left) stands with U.S. Rep. Gabrielle Giffords on Jan. 8, 2011, just moments before the shooting.
Laos was shocked to learn about the shooting later that morning. At the same time, he says, he was proud of the community response.
"As this event unfolded, I was never so proud of Tucson and of Tucsonans. So many people responded, some with training, some without training," Laos says.
The tributes the community left at the shooting site, University Medical Center and at Giffords' Tucson office were examples of the ties people felt to the event, he says.
"The community as a whole, I think, has embodied that tragedies happen, and then they have to be dealt with. And the outpouring of support for the victims and for the extended families, I believe has been wonderful."
Laos says many people felt a connection to the event, even if they, like him, weren't there when the shooting occurred.