Multiple Emmy winner (including Outstanding Miniseries!) "Downton Abbey" resumes the story of aristocrats and servants of Downton Abbey during the tumultuous World War I era.
Two years into World War I, Downton Abbey is in turmoil, as Matthew and other young men go to war — or avoid it. The women also pitch in, and many couples see their romantic dreams dashed.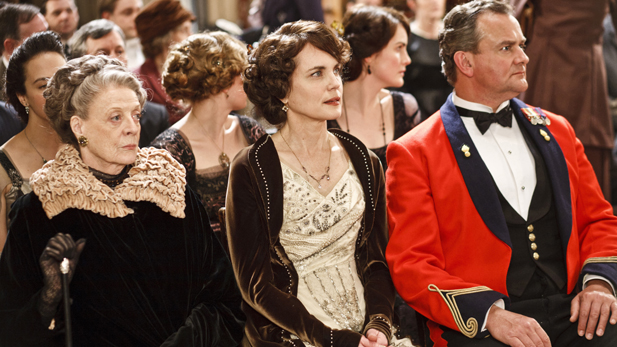 The Crawleys support the men in uniform. Shown from L-R: Dame Maggie Smith as the Dowager Countess, Elizabeth McGovern as Lady Cora, Hugh Bonneville as Lord Grantham (PHOTO: PBS)
Downton Abbey's Granthams and their family of servants have already weathered scoundrels, scandals, and a momentous succession crisis. But by November, 1916, the Great War has rendered everything — and everyone — changed. Even Downton Abbey itself, like its residents, has risen to the call of duty and transformed.
Downton Abbey, Season 2, Sunday at 8 p.m. on PBS 6.
Watch Downton Abbey Season 2 Preview on PBS. See more from Masterpiece.