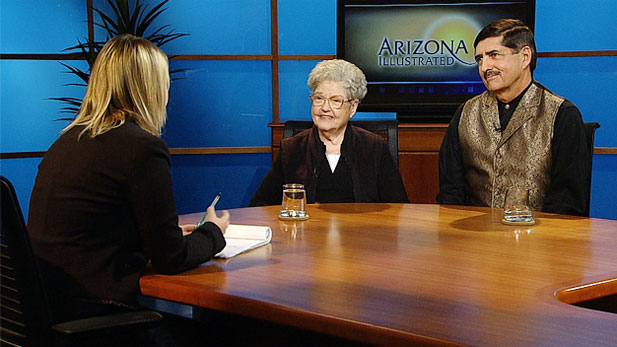 PHOTO: AZPM
Clara Stahle uses HomeLink and Tom Moser uses www.HomeExchange.com to make travel less expensive, more enjoyable.
Tom Moser and Clara Stahle have traveled the world by doing home exchange.
The process, in which people connect to trade time in one another's homes often in faraway lands, has been made more expeditious through the Internet.
Moser uses homeexchange.com and Stahle uses homelink.org to find families all over the world for home swapping.
These organizations made traveling affordable and allowed Moser to visit three countries in Europe and Stahle 22 locales in the United States and Europe.
Moser compares home exchange to online dating: "You make an inquiry, they e-mail back and you start the process."
Many people are familiar with home exchange after seeing the movie The Holiday. But Moser says real life home swapping is a process and doesn't happen immediately, as the movie might suggest.
Stahle says she joined Home Link in 1999, before the group existed online. Back then she did all the communication through regular mail.
For Stahle, the benefits are obvious: "You don't have the hotel bill; you have a house. You don't have to rent a car, because we always exchange cars as well, and you have meals at home if you want."
Moser and Stahle agree that home exchange helps them move beyond tourism to feeling as if they are residents in the countries they visit.