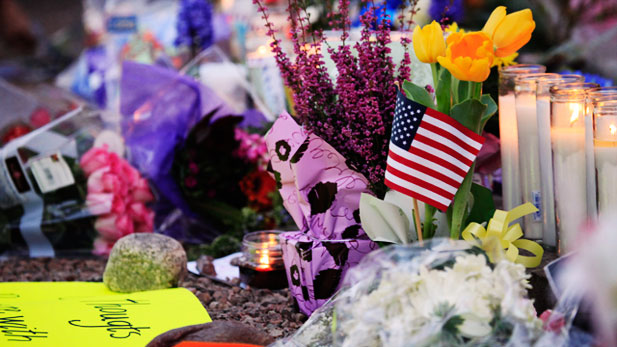 PHOTO: AZPM
Vigil at Gabrielle Giffords' headquarters in Tucson, Arizona.
New causes, positive actions and a community pulling together are the collective legacy of the tragedy of Jan. 8, 2011, say journalists who have covered the story from day one.
But it's too soon to say how the healing is going, they say.
"Healing. I think that's a word that we in the media often try to use to steer our stories," said Stephanie Innes, who has covered the recovery of U.S. Rep. Gabrielle Giffords and other aspects of the story for the Arizona Daily Star. "I don't know that you can really use healing in this instance. I don't know whether the community has healed or not. I think it's still too fresh."
Innes, tucsoncitizen.com Editor Mark Evans and Arizona Public Media political correspondent Christopher Conover appeared on Arizona Week discussed the year since the shooting at a congressional constituents' event on Tucson's northwest side.
Six people were killed and 13 wounded, including Giffords, who was shot through the head and is still working to gain regain speaking skills and energy to allow her to return to her congressional duties.
"If you look at the way the community was last Jan. 8 in our shock and sadness over what happened, and look at it now, this weekend that we have of all these activities going on and trying to unite as a community, I think the response has been very positive," Innes said. "Now whether individuals have healed? I don't think you ever get over the loss of a child. I don't think any of us will ever forget our sadness."
Evans pointed out all the new organizations and causes that have arisen from among the survivors and victims of the shooting spree as a most positive sign. That may be a form of healing, he said.
"One of the things I saw that was extraordinary about the response was the victims of the shooting, the people who lost a family member or survived the shooting. What has come out of that is a number of organizations in this community who try and move us beyond that," Evans said.
Among organizations he mentioned: Grandparents in Schools, started by Suzie Heilman, who took Christina Taylor-Green to the event at which the 9-year-old died; the Christina-Taylor Green Foundation; wounded congressional staffer Ron Barber's Fund for Civility, Respect and Understanding.
The community came together quickly in the wake of the tragedy, Conover said.
"I don't want to say the healing began immediately, but we saw a community reaction immediately," he said. "There was of course the huge memorial at the hospital. ... People reacted community-wide. It was a community reaction."
He said people were quick to ask, "What can we as a community do to heal, to help those who were directly affected? ... We saw that immediately."
The discussion for Arizona Week also touched on the political ramifications, the mental health treatment picture and a report card on how local news media have done covering the story. Watch here: