As the anniversary of the Jan. 8 mass shooting in Tucson got closer, Bill Badger says the memories of that morning that haunt him became more vivid.
Badger, a retired Army colonel, wanted to meet U.S. Rep. Gabrielle Giffords at the Congress on your Corner event to talk about health care for military veterans.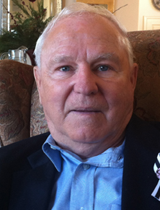 After Bill Badger was injured in the Jan. 8, 2011 shooting in Tucson, he helped subdue the gunman.
He spoke with Giffords' aide Gabe Zimmerman outside the Safeway at Oracle and Ina roads before writing down his name on the sign-up sheet.
"I had been there just 10 minutes when I heard the first shot," Badger says. "I didn't know it was a gunshot. It was extremely loud. But I looked over and saw an individual with a gun. He had already shot the congresswoman, the judge and little Christina, and then he walked down, shooting point blank. Then he pointed the gun at me, and that's when I dropped to the ground."
As he went down, a bullet grazed the back of his head, Badger says. He arose and tackled the gunman at the same time as bystander Roger Salzgeber hit him and Jared Loughner, and together they tumbled to the ground.
There, Joseph Zamudio and Patricia Maisch helped Badger and Salzgeber hold down the shooter until law enforcement officers arrived.
Those minutes felt like hours, he says.
"If I was thinking anything it was just, how could something like this happen? In a beautiful morning like that, how could I be involved in something like this? You would never expect to see people dying right there around you. It was a horrible scene," Badger says.
Badger had never met Giffords, and he didn't know anyone on her staff until that morning. Since then, he says, those strangers have become close friends. The healing process has been tough, but talking with other victims and family members of those who died that day helps Badger move forward.
Badger often wears a pink baseball pin with the initials of 9-year-old Christina-Taylor Green, the shooting's youngest victim.
Soon after the tragedy, he put on a blue rubber bracelet that reads "Peace Love Gabby." It has been on his wrist ever since, because he wants Giffords to remove it when he meets her, he says.