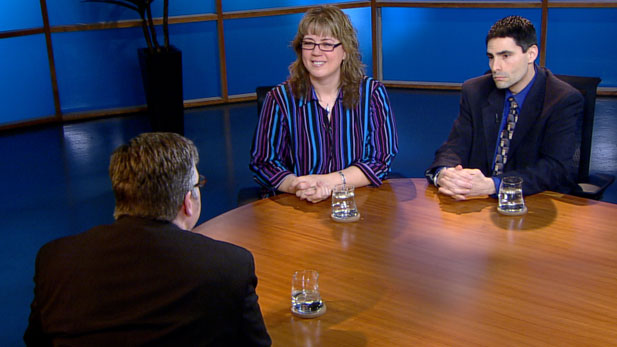 PHOTO: AZPM
Rosie Zwadek (top center), president of the Independent Film Association of Southern Arizona, and actor and film producer Eric Schumacher (top right), want to bring more of the film industry into Arizona.
Tucson was once a major destination for Hollywood producers and filmmakers, but lost its hold on the industry as other states ramped up their efforts to draw movie business. Now local residents are working to lure Hollywood back to Southern Arizona.
Those residents include Eric Schumacher, a writer, producer and actor who believes Arizona can play an important role in the film industry.
Schumacher is part of Picture Arizona, LLC, a collaboration that hopes to stimulate the local economy by promoting film industry projects and jobs in Arizona.
"We intend to have projects shooting throughout southern Arizona within the year," Schumacher says. "If we can meet our goals in raising finances for these films, we may have as many as five productions shot within the next 18 months."
Schumacher also works with IFASA, the Independent Film Association of Southern Arizona, a nonprofit now led by Rosie Zwaduk.
Zwaduk tells Arizona Illustrated that a variety of film projects are underway in Southern Arizona. They include features, national and international commercials and documentaries, but the group's members believe tax incentives would be a useful tool in encouraging more business.
"There's actually quite a lot of filming going on here, but there can always be more too," Zwaduk says.
Zwaduk and Schumacher say a thriving film industry will be good for the economy and for Arizona's image around the world.