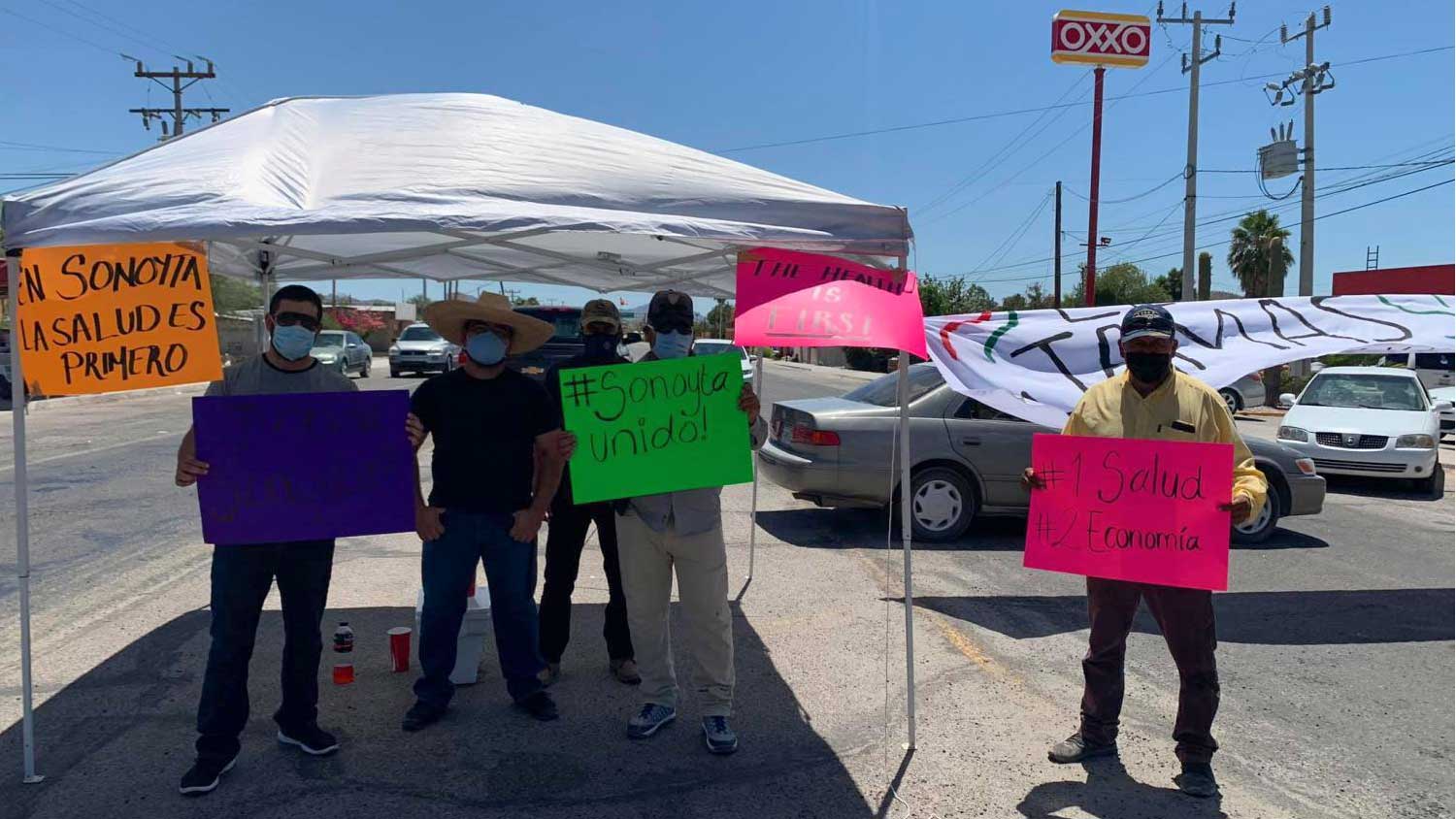 VIEW LARGER Demonstrators in Sonoyta, Sonora, are blocking southbound tourists from entering Mexico at the Lukeville-Sonoyta port of entry over coronavirus concerns.

Sonoyta Unido Jamás Será Vencido
Anticipating an influx of tourists during the holiday weekend, Sonoran officials implemented filters to turn back tourists and nonessential southbound travelers at border ports in San Luis Rio Colorado, Nogales and Agua Prieta to prevent the spread of coronavirus. However, an exception was made for some travelers headed to the popular beach town Rocky Point, prompting residents of a nearby border town to block the port of entry in protest.
Sonoyta Unido Jamás Será Vencido, a group of Sonoyta residents who fear cross-border travelers are bringing coronavirus with them from Arizona, set up blockades at the border Saturday, refusing to allow tourists into their town. Travelers must pass through Sonoyta to get to nearby Puerto Peñasco, or Rocky Point.
"Tourists are the ones who will have a bad experience of traveling to Mexico," said Conventions and Visitors Bureau President Héctor Vázquez, adding that visitors are essential to Rocky Point's economy.
But protesters say the well-being of local residents should be the priority.
Leaders in Rocky Point and Sonoyta reached an agreement Sunday to end demonstrations by ensuring travelers didn't stop in Sonoyta on their way to the beach.
"We made a commitment to protect everyone both within and outside of the city. This is why we ask you to continue through Sonoyta without stopping," Rocky Point Mayor Ernesto "Kiko" Munro posted on Facebook Sunday evening. "Only Puerto Peñasco has invested heavily in strict protocols to appropriately protect the health and safety of our visitors. Help us keep the way open. Come directly to Puerto Peñasco. We look forward to welcoming you!"
But protesters unhappy with Rocky Point's response returned to the port Monday to turn away U.S. visitors and promised to continue returning until there were proper protocols in place to protect Sonoyta residents.

Fronteras Desk
is a
KJZZ
project covering important stories in an expanse stretching from Northern Arizona deep into northwestern Mexico.