Few people think of snow and skiing when they think of Tucson. The Santa Catalina Mountains, however, is home to the southernmost ski area in the United States, which is perched at the 9000 foot summit. Located just an hour's drive from the sun-drenched resorts of Tucson, area visitors can go golfing, swimming and downhill skiing in the same day. Mount Lemmon Ski Valley offers ski equipment rentals, instruction, the Iron Door Restaurant, a snack bar and gift shop. Overnight accommodations and retail businesses are available in the nearby village of Summerhaven. The chair lift is in operation all year round, taking visitors to a high overlook from which they can enjoy views of the Santa Catalinas, the city of Tucson, the San Pedro Valley, the Reef of Rocks, and the distant mountains near Globe and Phoenix.Mt Lemmon Ski Valley is less than 30 miles from Tucson, and many people are surprised to find such quality skiing so close to the desert valley. This year's ski season started particularly early and this means increased revenues for business owners in Summerhaven, many of whom are still recuperating from the devastating Aspen Fire in 2003. Luis Carrión takes a look at how the season is shaping up. (VIDEO: AZPM)
The winter sports season is off to a good start in Arizona, despite predictions of dry conditions due to La Niña. All three of the state's ski resorts are open-–including Mt. Lemmon Ski Valley, the southernmost ski destination in North America.

Alex Chambers, a student at the University of Arizona, says the conditions are great, and admits he's amazed the slopes are located less than 30 miles from Tucson city limits.

"I didn't realize it when I moved to Tucson that there was such a great slope right here," Chambers says. "I grew up snowboarding in Snowbowl and Sunrise, and Mount Lemmon is fantastic."
Graham Davies, area manager for Mt. Lemmon Ski Valley, says that on a good year the facility will open around Christmas and close in early April.

"Capacity really depends on the parking facilities," Davies says. "Once we're full, we're full."
Davies says the economic impact of a good season is a welcome boost for the mountaintop community of Summerhaven, which is still rebuilding after the 2003 Aspen Fire.
"[It's] definitely a boost for us, and just having this many people on the mountain I'm sure is an economic boost for the other businesses in Summerhaven," he says.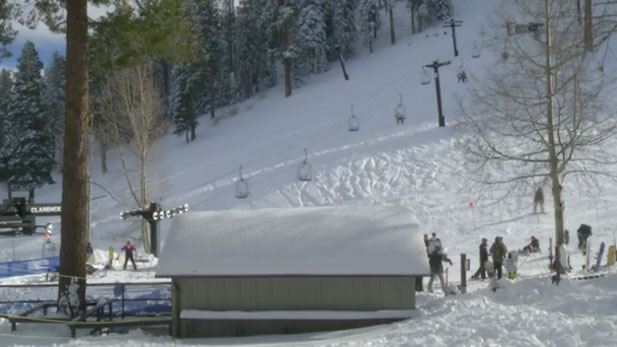 Mount Lemmon Ski Valley, north of Tucson, in January 2012. (PHOTO: AZPM)