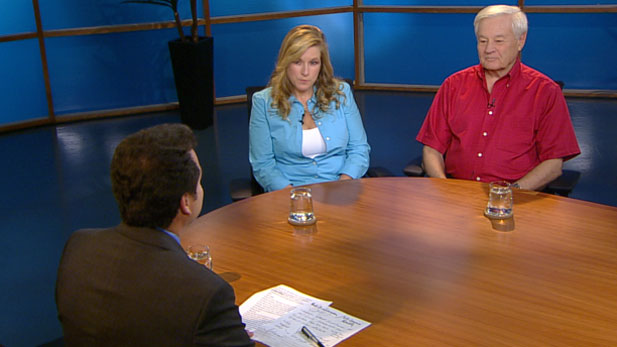 PHOTO: AZPM
Real estate agent gent Jenni Zimmerman and her father, broker Bob Zimmerman love Mount Lemmon's many attractions.
Mount Lemmon is home to the southernmost ski area in the United States, and residents in nearby Tucson and surrounding communities have made it a favorite destination, whether they are looking for snow in the winter or cooler temperatures in the summer.
The community of Summerhaven is perched on the mountain,which is named for botanist Sarah Lemmon, who visited in the 1800s.

Tourists flock to the area and Realtor Jenni Zimmerman says there's usually something for everyone -- nature, restaurants and shopping.
"In the wintertime there's skiing, sledding ... they do a lot of sledding. In the summers hiking, birdwatching, there's Rose Canyon, you can go fishing. There's a lot to do, people just don't realize it," she says.
Jenni works with her father Bob Zimmerman at Mount Lemmon Realty. Bob Zimmerman says a proposed condominium project is still being planned but there is no set date for construction to begin.
"It's kind of been held off by the economy and I think like all areas we've suffered some in value, but it's held pretty well considering all of the things that happened up there and also in Tucson," he says.
The Zimmermans are working on opening a restaurant in Summerhaven. Bob Zimmerman says he has had the dream for a while, especially after the Mount Lemmon Inn, which he owned, burned down in 1977.

"It's called the Sawmill Restaurant because there was actually a sawmill there back in the very early days when my dad first built it, " he says.