The U.S. Environmental Protection Agency's latest Toxics Release Inventory, or TRI, shows Arizona industrial facilities released, managed or treated 80 million pounds (40,000 tons) of toxic chemicals in 2010. That's the latest year data is available. The release information in the inventory comes from industry reports and calculations.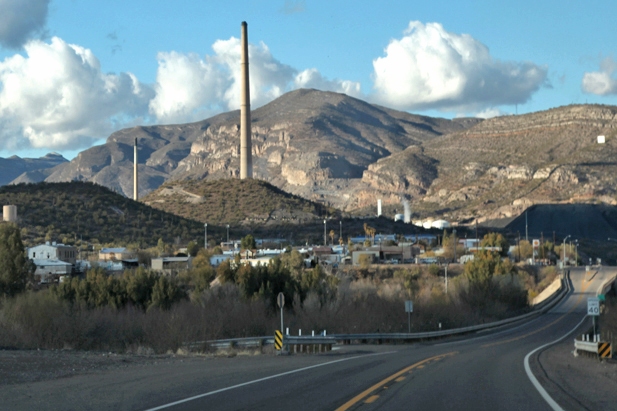 PHOTO: Mark Duggan
The twin stacks of the Hayden smelter loom behind the town of Winkelman, which neighbors the town of Hayden.
The data shows toxic chemical releases increased in Arizona 31% compared with 2009. But it also represents data from more reporting facilities. The inventory shows a total of 271 facilities in the state reported releases in 2010, compared with 255 facilities the previous year.
According to the TRI's 2010 Arizona State Fact Sheet, a total of 2,825,939 pounds of toxic chemicals were released into the air, 1,619 pounds were released into the water, 75,951,824 pounds were stored or treated at facility sites, and 1,231,770 pounds were transferred off-site. All of those figures increased from 2009, but some are markedly lower than 2008, when releases into water were reported at 58,877 pounds and air releases topped 3.7 million pounds.
The TRI also shows 31 million pounds of PBT chemical releases were reported in Arizona in 2010, up 40% from 2009. PBTs, or persistent bioaccumulative toxins, are compounds that pose unusual health risks to humans because they remain in the environment and food chain.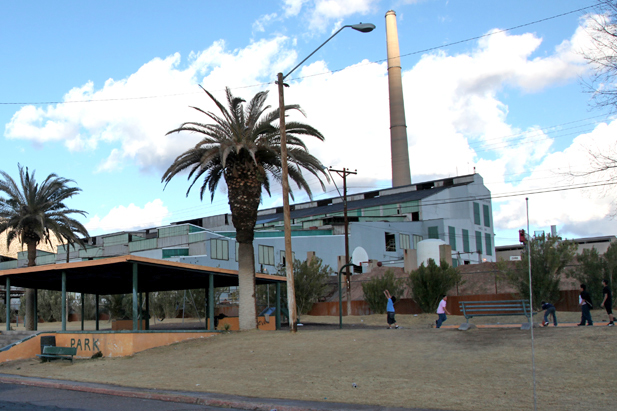 PHOTO: Mark Duggan
Children play in the Hayden City Park, adjacent to ASARCO's copper ore processing facility.
The inventory also included a list of the top reporting facilities in Arizona, according to on-site and off-site releases. The Ray Complex Mine and Hayden Smelter & Concentrator facility north of Tucson topped the list, releasing a total of 31,038,891 pounds of chemicals in 2010. Copper facilities in Miami, Morenci, Green Valley and Sahuarita were also high on the list.
The EPA's inventory includes data on 650 toxic chemicals commonly released by industry. The inventory began in 1988 as part of an effort to provide the public information on toxic chemical releases from industrial and federal facilities. Nationwide in 2010, TRI data shows 3.93 billion pounds of toxic chemicals were released into the environment, up 16% from 2009. According to the EPA, the increase is due mostly to changes in the metals mining sector.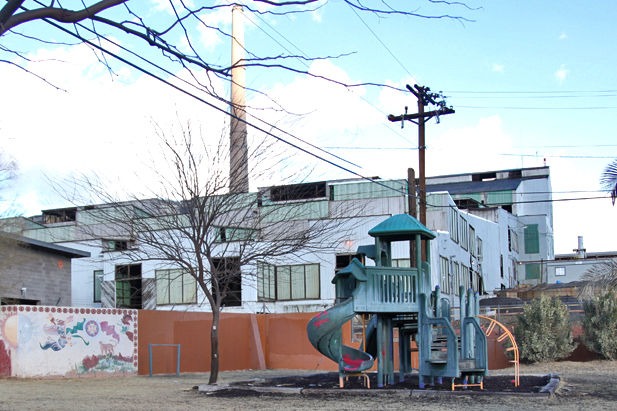 PHOTO: Mark Duggan
The Hayden City Park playground sits in the shadow of the Hayden Smelter and concentrator.
More resources:
TRI-2010ArizonaReport: View at Google Docs | Download File
EPA's state fact sheet
EPA's TRI Program Explorer (look up year, chemical and location of releases nationwide.)