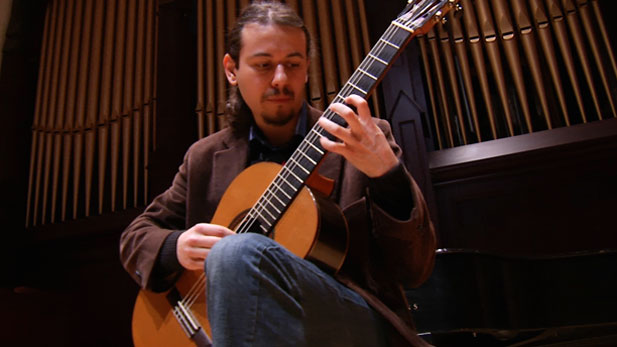 PHOTO: AZPM
Eduardo Minozzi Costa recently performed in New York City's Carnegie Hall.
Eduardo Minozzi Costa, doctoral candidate in the University of Arizona's Guitar Program, says music is "an art, but it's also a science."

Fresh from a recent debut performance in Carnegie Hall, Minozzi Costa says that he chose to pick up the guitar at a young age, when his father talked to him about the importance of developing the artistic side of the brain.

"For eight years old, it was perhaps too intellectual of a conversation, but it produced results in me picking up an instrument," Minozzi Costa says.
Minozzi Costa completed his bachelor's degree in guitar performance at the University of São Paulo in Brazil, under Dr. Edelton Gloeden.
He competed for and was awarded a cultural visit to the U.S. under the sponsorship of the São Paulo United States Consulate General. The visit resulted in a successful audition at the University of Arizona and a full scholarship to pursue both master's and doctoral degrees in guitar performance.
While in the U.S., Minozzi Costa has won six prestigious guitar competitions, including the Alhambra International Guitar Competition in May 2010.
Minozzi Costa says he hopes to continue performing for many years, and would like to teach guitar at a university when he completes his doctorate. He's also completed a major project called Pathways to Guitar Excellence --an interactive system he says helps students achieve results in guitar performance.