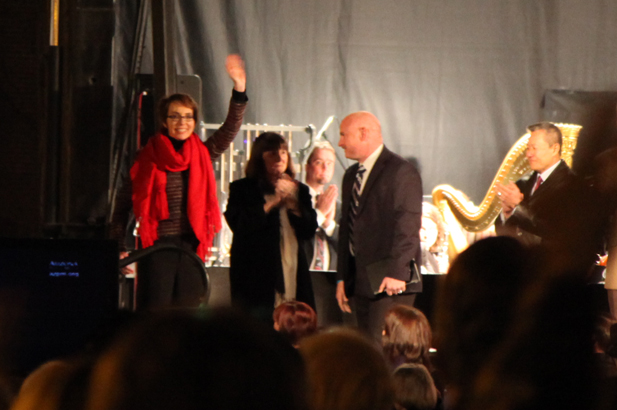 PHOTO: Christopher Conover, AZPM
Gabrielle Giffords waving to the crowd at a Jan. 8, 2012 anniversary vigil of the shooting that took six lives and left her and 12 others wounded.
U.S. Rep. Gabrielle Giffords announced this morning in a Youtube video that she will resign from Congress this week.
"I have more work to do on my recovery so to do what is best for Arizona I will step down this week," Giffords said on the vide.
The Democrat from Tucson was shot through the head a year ago at a gathering with constituents on Tucson's northwest side. She has been recovering and doing rehabilitation work in Houston while living at the home of her husband, retired astronaut Mark Kelly.
Kelly said in an interview with Arizona Public Media last month that Giffords would not "wait until the last minute" to decide on her political future. That would have been this coming May, when nominating petitions are due in Arizona for congressional races.
Giffords first was elected to Congress in 2006 and won re-election in 2008 and 2010. She was sworn in for her third term from Arizona's 8th Congressional District on Jan. 3, then came to Tucson at the end of the week to meet constituents.
It was at her first such meeting, outside a Safeway supermarket at North Oracle and West Ina roads, that a gunman opened fire, killing six people and wounding 13 others, including Giffords.