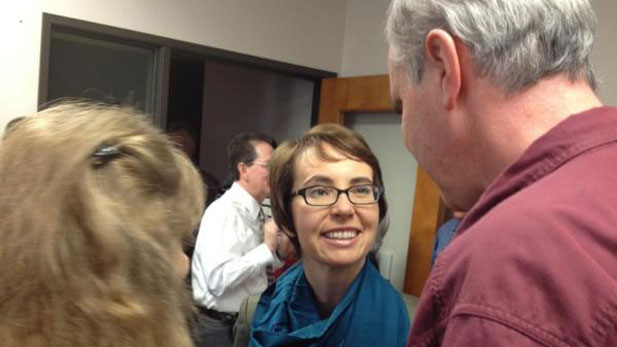 U.S. Rep. Gabrielle Giffords meets Monday with constituents who had come to see her on Jan. 8, 2011.
Now that Congresswoman Gabrielle Giffords has announced she'll resign from office this week, there's a new political uncertainty in Southern Arizona.
Who will replace her? Several politicians are interested in the congressional seat, which will be filled in a special election.
Listen to AZPM political correspondent Andrea Kelly's report here:
Giffords' decision to resign her congressional seat this week may be surprising to some or even expected to others. But it's left potential congressional candidates scrambling to make decisions.
State Sen. Frank Antenori, R-Vail, was already considering running for a Tucson-area congressional seat this fall. State Rep. Steve Farley, D-Tucson, was launching a campaign for a state Senate seat this fall, but now he says he will be happy to replace Giffords, but only if she asks.
Neither Farley nor Antenori announced a congressional run this weekend following Giffords' announcement that she will resign this week to continue progressing with her recovery from a gunshot wound through the head. She was wounded at her Congress on Your Corner event on Jan. 8, 2011 when a gunman opened fire.
Six constituents -- 9-year-old Christina-Taylor Green, Dorothy Morris, U.S. District Judge John Roll, Phyllis Schneck, Dorwan Stoddard and Gabriel Zimmerman -- were killed, and 13 people, including Giffords, were wounded.
Arizona Gov. Jan Brewer will call a special primary election, likely in April, and a June general election to fill the seat, once Giffords officially resigns this week.
Those will be separate from the fall elections for the next congressional term.
Antenori has an exploratory campaign open to allow him to fund raise as he considers running for Congress in the fall. Now that this seat is immediately available, he said Sunday he needs to iron out the legal details before he will announce his decision, although he confirmed that he is considering running in the special election.
Giffords represents Congressional District 8. Under redistricting, much of the southeastern Arizona area that CD8 covers will be known as Congressional District 2. It will have a nearly even number of Democrats and Republicans, as opposed to CD8's slight edge in GOP registered voters.
Antenori and Farley aren't the only people who may be interested in running. Other names frequently mentioned include Democrats Paula Aboud and Matt Heinz, who are serving in the state Legislature; Republican Adam Hanson, who has already filed as a candidate for the fall election; and Republican Dave Sitton, who has an exploratory committee open for the same.