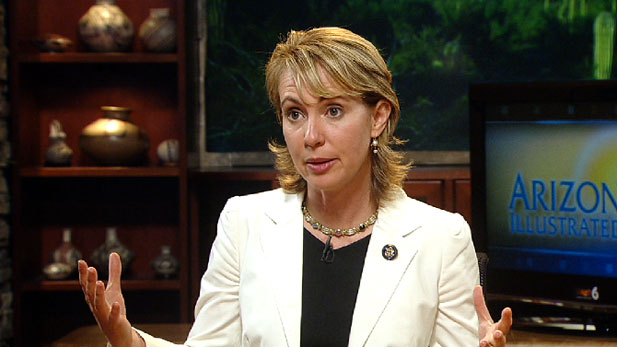 PHOTO: azpm
Congresswoman Gabrielle Giffords
U.S. Rep. Gabrielle Giffords will make several Tucson appearances and attend the joint session of Congress for President Obama's State of the Union speech this week.
On Monday, Giffords will hold a private meeting with constituents who were in attendance at the Congress on Your Corner event last year at which six people were killed and 13 were wounded, including Giffords.
The third-term Democratic congresswoman announced her resignation on Sunday, saying she wants to work further toward recovery from the effects of a bullet wound through the head. She also vowed in a video message posted on Youtube, ""I will return and we will work together for Arizona and this great country."
Giffords will meet privately with community leaders and advisers from her district on Monday, her office said in a press release.
The office also said the congresswoman will tour the Gabrielle Giffords Family Assistance Center at the Community Food Bank of Southern Arizona, starting at noon on Monday. The center was established after last year's shooting in Giffords' honor after people donated $215,000 to the food bank in her name.
"The congresswoman's visit to the center tomorrow will be her final act in her district as a member of Congress," The press release said.
On Tuesday evening, Giffords will make her final appearance on the floor of the House of Representatives, to attend Obama's State of the Union Speech.
Later in the week, her office said in the press release, she will submit a letter of resignation to House Speaker John Boehner and Arizona Gov. Jan Brewer. Brewer will schedule special primary and general elections to fill the remainder of her term for this year.